NOVEMBER 20, 2020
. . .
Assisting healthcare providers during the COVID-19 pandemic is SONIFI Health's top priority in this critical time.
Below are some of the ways we've been offering assistance to our customers during this rapidly evolving situation.
We'll continue to update this page as additional options and resources become available.
Communicating safety protocols
With the situation changing every day, hospitals need to be able to quickly get out updates about visitor policies, safety precautions, CDC-recommended guidelines, and operations protocols in response to COVID-19.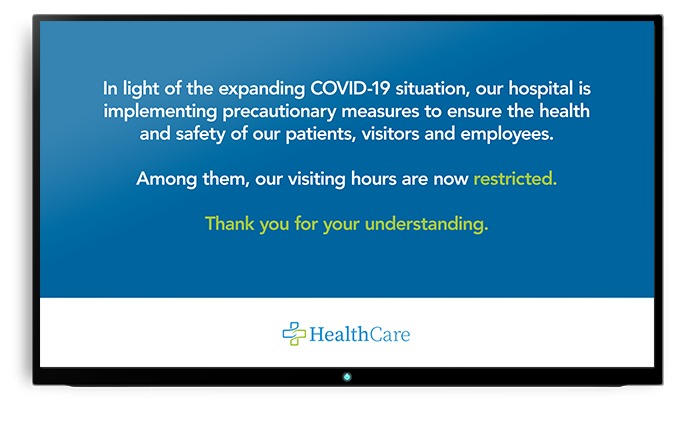 These time-sensitive messages can be deployed on SONIFI Health solutions to display:
Every time a TV is turned on
Before a movie or educational title is started
On the in-room TV main menu
On hospital-connected mobile devices
As part of a looping safety channel, promo channel and/or digital signage channel in both patient rooms and waiting rooms
Whether it's on TVs or digital endpoints, we can help make a facility's message highly visible to patients, families and visitors. Digital displays can be easily updated to reflect additional changes as often as necessary for the hospital's needs.
Providing critical information where it's needed most
Digital door signs outside patient rooms can immediately alert clinicians about each patient's isolation status, ensuring they take the proper precautions before entering the room.
The information displayed is automatically updated when changes are made in the patient's EHR, including the need for isolation based on new test results or changing conditions.
Sharing encouragement and comfort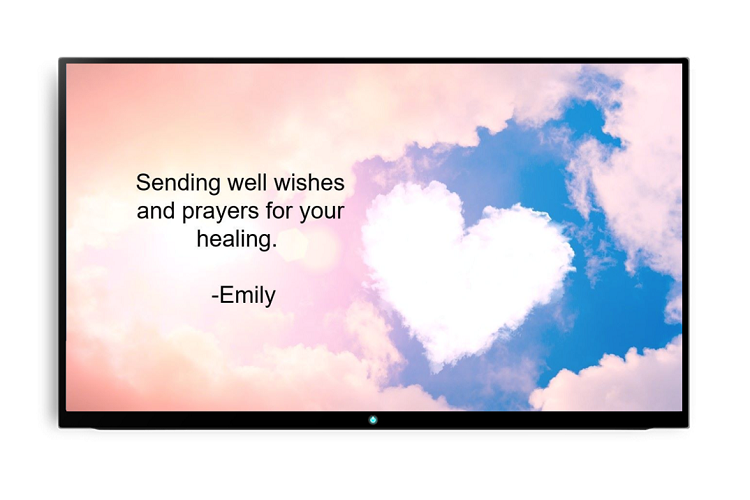 Facing strict visitor restrictions, many patients feel more isolated and lonely. Long shifts for weeks on end leave some employees feeling exhausted.
The SONIFI Health system can be used to share comforting content through interactive TVs and digital displays. Some ways customers are leveraging this option include:
Well wishes and encouraging messages from the community and former patients, looping on a dedicated channel on the in-room TVs (See what this looks like at Henry Ford Health System and Karmanos Cancer Institute)
Notes of thanks, children's artwork and inspirational messages for healthcare workers, displaying on digital platforms in staff lounges, cafeterias and offices
Care team photos, automatically updating with shift changes by pulling information from the EHR and Active Directory so that patients can see the faces behind the people covered in PPE who are caring for them
Therapeutic music and spiritual content, being shared free of charge thanks to a partnership with Coro Health
Therapy dog virtual visits, featuring on-demand videos from the facility's certified therapy dogs and their owners at home
Chapel and ministry services, including both livestreams and recordings of messages, songs and prayers led by the facility's spiritual staff
An aquarium channel, featuring a livestream of the facility's colorful and calming lobby aquarium
For areas without TVs, SONIFI is assisting facilities in using Wi-Fi to distribute video content, TV programs and live camera feeds.
Limiting the need for person-to-person contact
Patients can use the SONIFI Health system in their room to place meal orders for delivery from the cafeteria, fill prescriptions from the in-house pharmacy, and make requests for items or services.
All these functions streamline the request process and reduce unnecessary visits into a patient's room.
Deploying COVID-19 and health safety videos
There are several patient education videos available about infection control and safety precautions that can be added to and elevated in a hospital's content library.
Free videos about the coronavirus are available from the CDC, Healthwise, and PatientPoint.
Additionally, content vendors have videos available about related topics such as:
Infection prevention
Hand hygiene
Pneumonia education and care
Fever
Isolation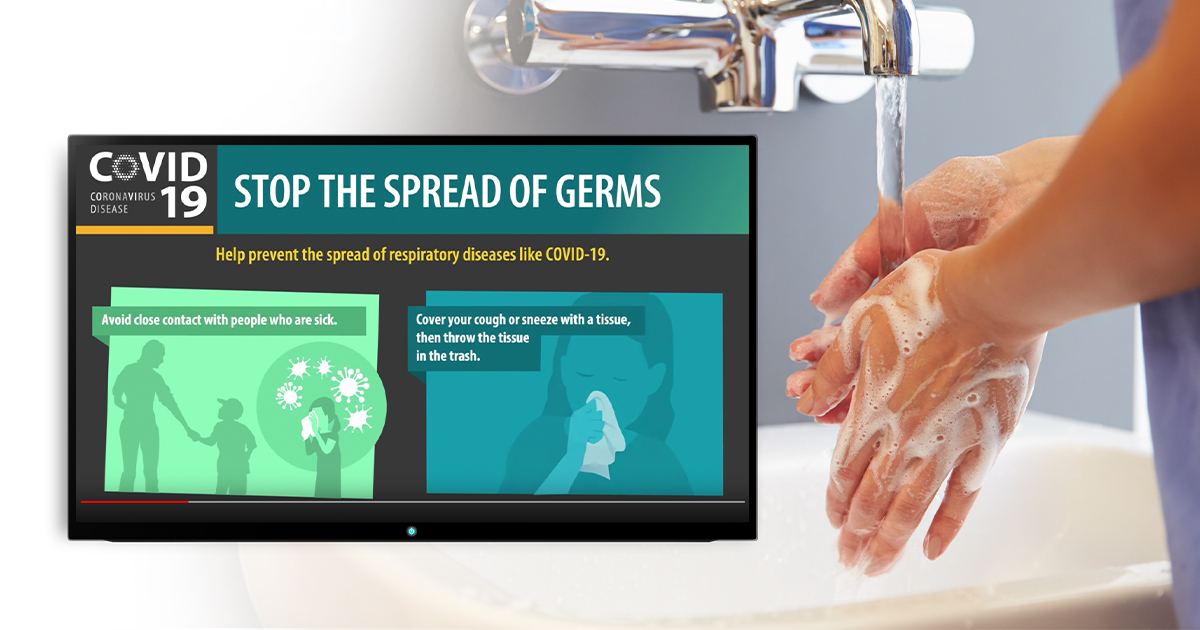 Having this information automatically assigned for patients to view on demand can help save nurses valuable time that can instead be used for direct patient care.
Keeping patients calm
Being in the hospital is always stressful for patients and their families — but they're likely experiencing anxiety now more than ever.
The SONIFI Health platform can give patients easy on-demand access to favorite television programs, movies, music, streaming services, and spiritual content, as well as relaxation and white noise services.
We can work with hospitals to optimize their positive distraction, education, and beside request deliveries both to help keep patients and visitors calm, and to reduce nurse workflow needs.
Options may include prominently displaying certain content, finding additional endpoints to keep patients updated, and showcasing features available on the interactive television and from mobile devices.
Preparing new rooms for expanded capacity
Because of rapidly spreading waves of COVID-19, some hospitals are having to quickly add beds and capacity to their facility.
SONIFI's nationwide field service team can assist in setting up the technology and networks in these new rooms, in compliance with your vendor visitation policies.
We have the TV inventory and IT resources needed to get new patient rooms and common areas connected.
Our service and installation team has expertise in coax and IP (wired/wireless) infrastructures, as well as satellite, cable and IP distribution systems.
If you need us, we're here for you
We know this crisis is challenging healthcare workers like never before. Thank you for everything you're doing to keep our communities safe.
All COVID-19 requests from hospitals are being prioritized and deployed as quickly as possible by the SONIFI Health team.
Please reach out to our customer success team with any questions or to discuss how we can help you during this critical time. We are here to support you.
. . .
Originally published March 16, 2020. Last updated November 20, 2020.
Stay Connected
Get our newsletter and receive exclusive product details, research and industry news.