November 20, 2020
. . .
Whether your organization is battling the latest surge of COVID-19 or beginning to resume elective procedures and routine care, people in your facilities need to feel reassured and safe.
Digital tools can offer your patients, families and clinicians the information needed to instill confidence in your commitment to their health and safety, especially during a pandemic.
Here are some ways SONIFI Health customers are using our technology's features and customizations to keep people informed and provide peace of mind:
Reassure visitors of their safety
What to use: Digital signs
Where they can be used: waiting areas, lobbies, cafeterias, hallways, staff lounges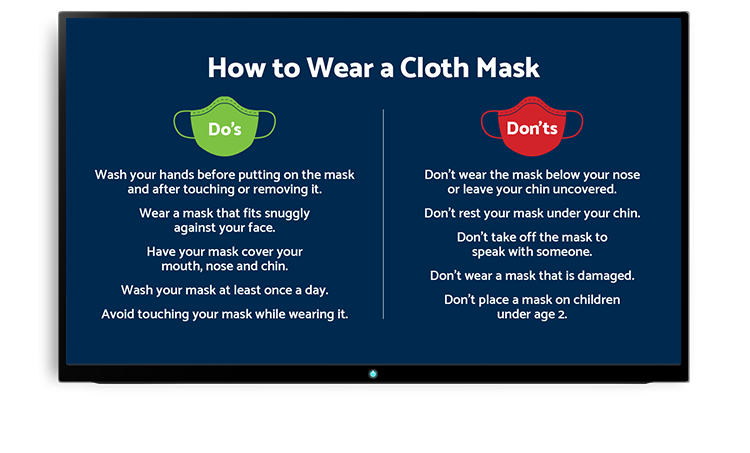 How digital signage could help in your new normal:
Display screening and safety protocols for anyone entering your facility
Provide up-to-date information about visitor policies, staff precautions, cleanliness practices, adjusted hours and scheduling changes
Reiterate the importance of checkups and health screenings
Remind staff of new safety practices, PPE protocols and patient interaction guidelines
Streamline clinician workflows
What to use: Digital door signs
Where they can be used: Outside patient rooms

How digital patient door signs could help in your new normal:
Alert staff and visitors of a patient's isolation status to ensure proper protocols are followed
Automate patient and care team information on EHR-integrated displays
Provide clinicians the patient details they need most at a glance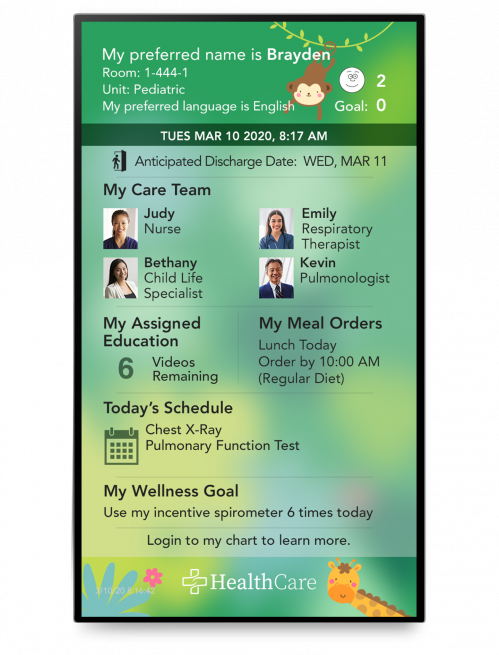 Improve patient interactions
What to use: Digital whiteboards
Where they can be used: Patient rooms
How digital whiteboards could help in your new normal:
Empower patients with personalized information about their care team, schedule, education, meal orders and more
Save clinician time with EHR integrations that automatically update information
Reinforce cleanliness measures by eliminating a high-touch surface in patient rooms
Foster connection and conversation by using a customizable widget to display "about me" details from the patient
Offer comfort, education and control
What to use: Interactive televisions
Where they can be used: Patient rooms

How interactive TVs could help in your new normal:
Convey reassuring messages from your leaders and organization
Offer positive distraction with quality entertainment, movies and relaxation content to keep patients' anxiety down
Display patient-specific information about their care team, education and reminders driven by automated EHR integrations
Provide options for patients to order meals, make requests, fill prescriptions and adjust lights, temperature and window shades with minimal staff intervention and contact
Keep patients connected to the world around them by using custom channels to offer live or recorded services, encouraging and motivational messages, personal videos from clinicians, and much more
Cater to mobile-first preferences
What to use: Mobile solutions
Where they can be used: patient rooms, anywhere in your facility with a Wi-Fi connection

How mobile solutions could help in your new normal:
Provide control, flexibility and contactless options for patients by integrating information and features into a mobile app
Offer a way for patients and families to access their favorite streaming content and comforting positive distractions to pass the time
Use Wi-Fi to distribute video content, important messages, TV programs and live camera feeds to people in areas without access to TVs
Adapt to your needs
SONIFI Health's solutions are flexible enough to adapt to whatever your specific needs are, and to evolve as your community's situation changes.
You have the plans and protocols needed to keep people safe — let us help you communicate with and comfort the people who need it most right now.
. . .
This article was originally published June 16, 2020. It was last updated in November 2020.
Stay Connected
Get exclusive insights delivered to your inbox from our experts.