Due to COVID-19's rapid spread in Michigan, part of the Detroit institute's precautionary measures have included putting visitor restrictions in place, which means many cancer patients have had to go through screenings, appointments and treatments without loved ones at their side.
But Karmanos wanted to make sure patients knew they weren't alone.
Karmanos staff put out a call on its social media channels and employee intranet for people to share a note of support for patients who still had to come receive cancer care while the coronavirus kept spreading.
Within days, more than 400 notes were submitted.
Staff working remotely then uploaded the messages onto their SONIFI Health entertainment and engagement platform, and dedicated a channel on its locations' TVs to display the encouraging messages to patients.

The response has been inspiring, said Kristine Kilbourne, senior marketing and communications specialist at Karmanos.
"Our medical teams are really stepping up to provide extra comfort and guidance to patients, and having this additional tool to connect patients with the community around them is really powerful," Kilbourne said. "When we see who these messages are coming from — employees, friends in the community, employees' family members, former patients, even complete strangers invested in our patients — it's amazing to see how wide our Karmanos community really is."
For the patients currently undergoing treatment, some of the messages that stand out the most are from former Karmanos patients.
"Hearing from someone who has been through it and had that same experience brings an extra level of support, getting their encouragement and seeing they can do this — it's really moving," Kilbourne said.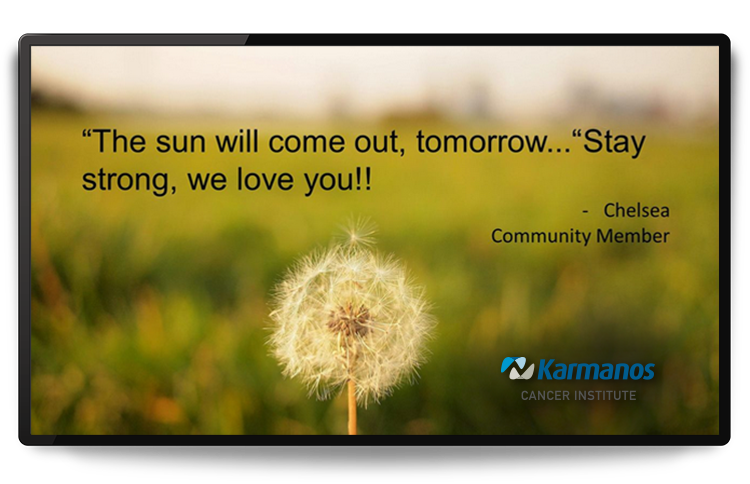 Given the response from both community members and patients themselves, Kilbourne said they'd like to keep the channel and call for encouraging messages going even after the pandemic.
"We want our patients to always have that feeling of support and love from our entire Karmanos community," Kilbourne said. "This has been a really great way to reach our patients, and we're excited to work with SONIFI Health in new ways to keep it going."
"We've been so inspired by how Karmanos Cancer Institute has never wavered in their commitment to patients, who are already in a difficult situation battling cancer, and now need to navigate a pandemic while being immunocompromised," said Roy Kosuge, General Manager of SONIFI Health. "Being part of helping share kindness and hope with some of the people who need it most has been humbling for our SONIFI Health team. We're proud to partner with Karmanos now and in the future."
Stay Connected
Get exclusive insights delivered to your inbox from our experts.