OCTOBER 26, 2022
. . .
A free and easy-to-use image can improve patient outcomes — and satisfaction.
QR (quick response) codes are a simple way to streamline workflows for your clinicians while also getting targeted communications to your patients where they're most likely to reference it: Their phones.
Easily created for free online, QR codes can be added to any materials or displays in your facility, including marketing materials, signs, digital whiteboards and interactive televisions.
Rather than asking patients to follow manual steps or interrupting your clinicians' work, QR codes immediately connect patients and their families with vital information about their health or helpful features for their stay.

Key places to direct patients with a QR code
QR codes can be used to get patients to a website landing page, video, online document, form or anywhere else you want to connect them virtually. Here are some use case ideas for QR codes:
Your EHR patient portal
Cafeteria menus & hours
On-demand entertainment content
Staff recognition (e.g., DAISY Awards)
Scheduling for health screenings or vaccinations
Patient success stories & your foundation's website
Your digital front door & messages from your leadership
A quick connection
Whether it's providing important information or nudging patients toward a desired action, QR codes are a great option to add to your quality and patient experience strategies.
QR codes are increasingly acting as a bridge between in-person and virtual care experiences for patients and families.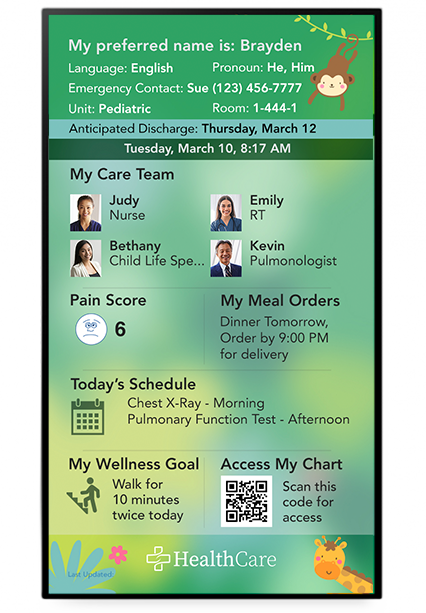 Used throughout the patient journey, QR codes can be a simple, touchless communication tactic used at registration, in waiting rooms, within patient rooms, and before discharge.
QR codes also give your organization more opportunities to keep patients in your network by directing them to on-site services and amenities, tertiary locations, appointment follow-ups and post-discharge services you or your partners offer.
Without adding more care team tasks, your organization can continue the conversation with patients in a way that's accessible and effective.
QR codes have been widely used in commercial settings to connect consumers to brands and products, and that element of consumerism is continuing to revolutionize healthcare as well.
This consumerization of healthcare makes hospitals and other healthcare settings ripe for innovation when it comes to using QR codes.
See some of the creative ways SONIFI Health customers are using QR codes to improve the patient experience and gather information for ongoing improvements in this free use case.
. . .
Editor's note: This article was originally published in December 2020. It has been updated for freshness and comprehensiveness.
Stay Connected
Get exclusive insights delivered to your inbox from our experts.