October 27, 2021
. . .
"If you need anything, just ask!"
This simple statement to patients can turn into a headache for your bedside clinical staff when nurse call buttons are used for both immediate care needs and non-clinical requests.
But when you offer patients a simple way to submit asks that aren't urgent, you can eliminate unnecessary workflow interruptions, improve patient satisfaction, and create positive experiences for both your patients and your staff.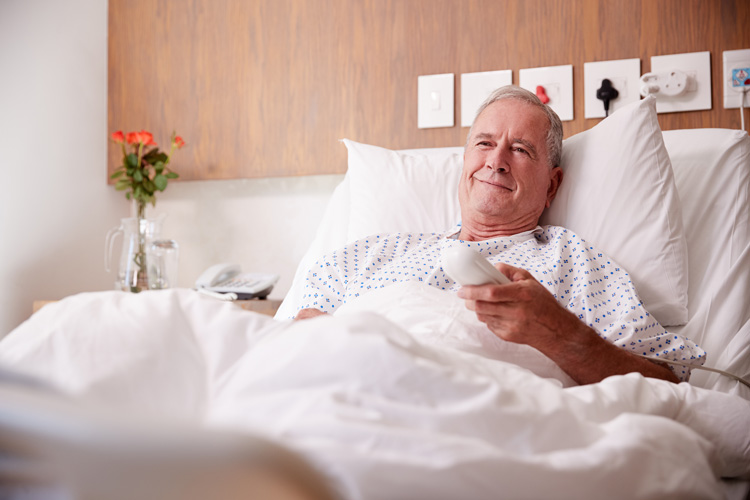 What is a patient request feature?
On SONIFI's interactive TV platform, the patient request feature allows you to set up pre-defined requests with unique dispatch destinations.
When a patient submits a request, the system routes the notification directly to the person or department that can help — without interrupting clinical workflows.
Which requests should be included?
First, talk with your nurses about what patients are asking for most during their stays.
What non-clinical tasks are most common? And what kinds of patient requests can easily be fulfilled by other resources at your facility?

Here are some patient request ideas to get you started:
Spiritual, financial, environmental or patient advocacy services
Consultations for discharge planning, medications or at-home care
Toys, games, art supplies, books, magazines or gift shop items
Snacks, blankets, toiletries, phone chargers or valet services
Pet therapy, guided meditation or other integrative health activities
Where do the requests go?
You can set up each patient request to go directly to the department or person best equipped to help.
This is often a group email consistently monitored by staff, requiring only a basic ADT integration to enable.
Enhanced workflow integrations for patient requests could also be completed with your:
EHR (unsolicited order)
Phone or paging system
Collaboration platform
Rounding tool
The dispatch notifications can be updated and rerouted at any time to work best for your teams and their workflows.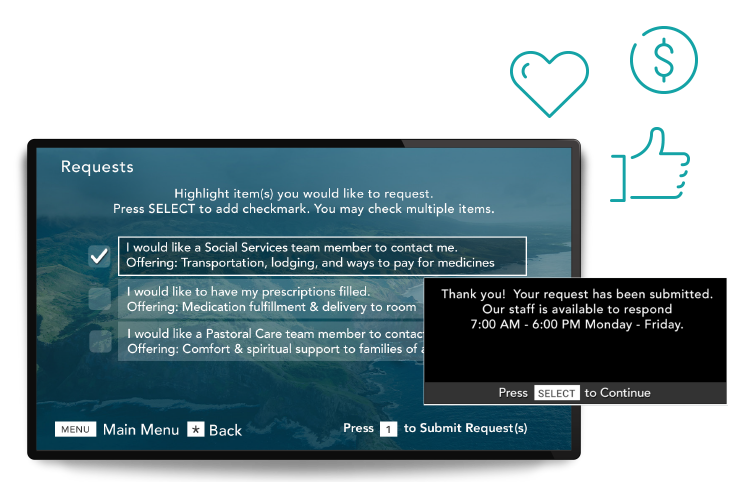 What's the ROI of turning on a patient request feature?
The positive benefits of adding digital patient requests to your interactive system all depend on what issues you're trying to solve for at your facility — remember that any technology your teams use should work for them, and not the other way around.
Some of the top outcomes our healthcare partners have seen after they implement a bedside patient request feature include:
Fewer nurse calls, redundancy & busywork
More time for bedside staff to focus on care-related tasks
Increased utilization of specialized resources & concierge-like services
More efficient workflows with automated & consistent dispatch processes
Improved patient satisfaction with prompt service responses & clearer expectations of staff availability
Whether you're looking to achieve process and quality improvements, support patient experience strategies, or impact post-discharge outcomes, our customer success executives can help identify quantifiable goals and feature workflows that would work best for your specific needs.
Contact us to discuss how the patient request feature on interactive TVs can help your teams and your patients.
Stay Connected
Get exclusive insights delivered to your inbox from our experts.