JUNE 29, 2021
. . .
Patient surveys don't always give you the feedback you need, or the information you want.
That doesn't mean patient surveys don't work.
Patients may have language or literacy barriers, or be concerned about privacy. Your teams may have inconsistent methods, training or follow-up processes.
Try incorporating these evidence-based best practices for patient surveys that get meaningful results.
First, why should you conduct patient surveys before discharge?
Asking patients the right questions while they're admitted can help your teams provide better care in the room and in the future.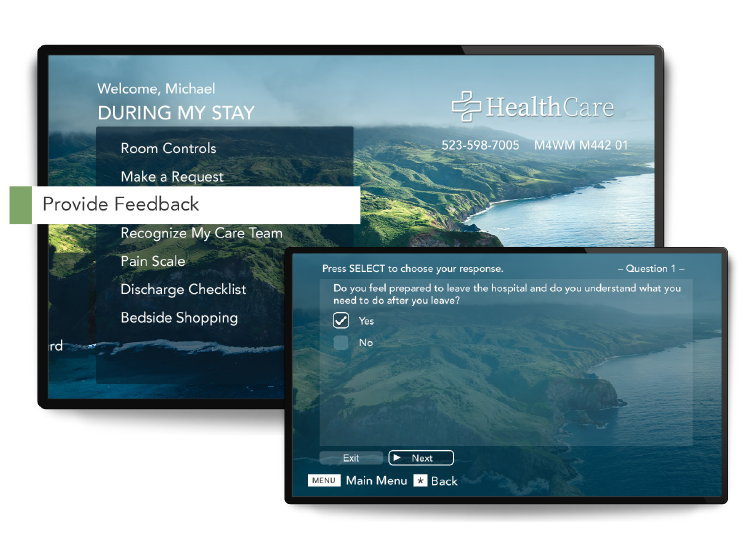 Surveys can be used as a screening tool to identify patients who need additional intervention during their stay and extra support after discharge. It's a great opportunity to capture risk scores and social determinants of health that would factor into your care planning.
Surveys can evaluate a patient's discharge readiness by making sure they understand their condition and medications, and have the information and resources needed for success after discharge.
Surveys can assess a patient's feelings about care interactions, services and their environment, and give you an opportunity for real-time service recovery that could influence your HCAHPS scores.
Surveys can give you insights about an organizational initiative, getting objective firsthand data to track progress toward benchmarks related to the initiative.

How to make better patient surveys
No matter what the purpose of gathering patient feedback is, there are some best practices with creating surveys that are effective, actionable and sustainable.
Keep it brief. Patients in your hospital may be in pain, anxious or distracted. If you're asking them for feedback, make it as simple and easy for them to give. A handful of simple questions are more likely to be completed than a longer survey.
Account for literacy. Don't use words that may be difficult for patients to understand. For example, patients may not know what "hand hygiene" means, but they likely know "washing hands."
Use universal answers. Make response options easy to interpret and identify with. Ask yes/no questions or give choices from a standard Likert scales.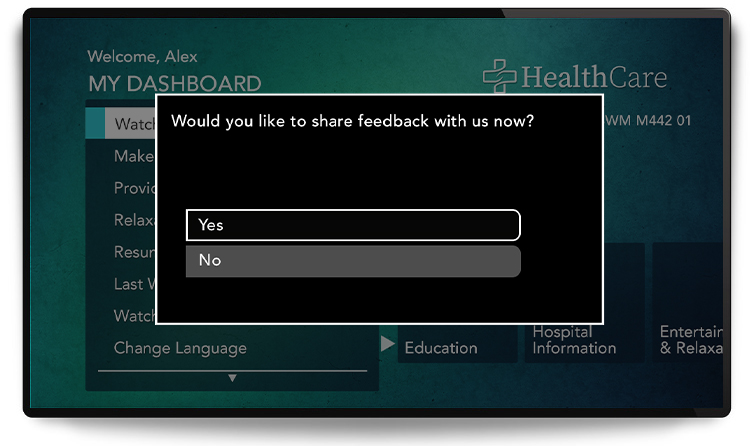 Only ask where you'll get an answer. Consider how each unit's patient population would be willing and able to complete a survey. For example, exclude ICU and critical care units, and instead focus on postpartum and rehab areas.
Prompt and remind. Increase the survey's visibility and likelihood of patients giving feedback with an on-screen prompt or in-person reminder. Patients who weren't able, or in the mood, to complete a survey before may be ready now.
Time it right. Schedule survey prompts to appear when the in-room TV is being used most, or before nursing and leadership rounds. And don't prompt patients about a survey more than once a day — you'll likely annoy them and negatively affect their responses.
Do something with it. Don't ask anything you're not fully committed to following up (or following through) on. Before launching any survey, make sure you've answered these questions:
Who will get alerts with the survey responses? Should the alerts be in real time?
What is the process for follow-up or service recovery?
How long will you collect responses for a particular survey?
What will your organization do with the aggregated responses? What are the next steps based on the survey results?

Have realistic expectations. You're asking patients to provide feedback during a time when they're not at their best. The survey response rates will vary, and that's OK. Getting 100% of patients to respond isn't the goal. Getting valuable information and actionable insight is.
Ditch the paper. When we talk with healthcare organizations about patient surveys, our top suggestion is to put them on interactive technology. Here's why: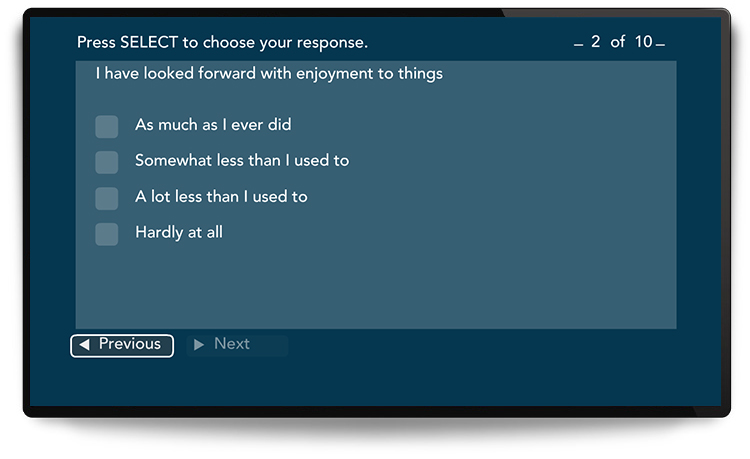 Some patients may feel embarrassed or fearful about their situation; they're likely to be more honest with their feedback when they're not face-to-face with an individual.
Having surveys available on demand on puts patients in control. It empowers them to give feedback when they feel comfortable and willing, without feeling rushed or forced.
Any gaps in the nursing team's training or background are eliminated with a consistent method of collecting information from patients.
Integrating the survey with your EHR, ADT and other systems can automatically chart responses back to the medical record, flag them for follow-up, or put them into automated workflows.
Response data can automatically calculate risk factor scores, automate patient interventions, and collectively gauge progress toward your organization's goals and benchmarks.
Not sure what to do next? Trust the patient engagement experts.
SONIFI Health's clinical, research, product configuration and customer success teams have the expertise to help you create patient surveys that are effective, and analyze responses to yield meaningful insights.
We'd love to show you how an interactive solution can help gather better feedback and enhance your organization's patient engagement strategies.
CONTACT US LEARN MORE
Stay Connected
Get exclusive insights delivered to your inbox from our experts.