February 5, 2021
. . .
It takes planning to help patients be successful after discharge.
A patient's acute care stay often also comes with instructions for follow-up appointments, medication or dietary changes, rehab therapy, additional procedures, or steps they need to take to properly heal.
If a patient is anxious, ambivalent or simply unprepared for what needs to happen after discharge, they're not likely to have a smooth transition of care — and they may wind up back in your hospital.
Let's take a look at why transitional care should be a priority for your care teams, and simple ways they can help prepare a patient for successful outcomes.
Benefits of effective transitional care
Whether a patient is heading home or to a post-acute care facility, well-executed care transitions benefit both the patient and your organization with:
Reduced lengths of stay, readmission rates and CMS penalties when patients are provided useful education and resources before they're discharged
Higher HCAHPS scores when patients, families and care teams communicate better and are more engaged
Improved family satisfaction with the reassurance of being able to care for their loved one, and having access to the resources to do so
Improved staff satisfaction with streamlined workflows and more patient participation in their care
Here are 6 key areas that can improve transitional care and discharge outcomes.
Patient education

Providing patients education specifically about their condition and medications can help them better understand their ongoing care plan.

For patient education to be most effective, we recommend:

Ensuring education content is in the patient's preferred language
Offering video education, which reinforces messages with both visual and auditory cues




Making the education content easily accessible and on demand, both in the room and at home
Addressing the patient's need for caregiver or family support
Using comprehension surveys and teach-back techniques
Explaining what to expect after discharge, and how to prevent coming back to the hospital

Integrated patient engagement technology can automate many of these recommendations, giving your staff more time for direct patient care.

Screenings & surveys

Screenings help identify patients at a high risk for complications post-discharge.

Capturing social determinants of health early in the hospital stay allows for more effective discharge planning and a more accurate calculation of risk of readmissions score.

Ask patients about:

Their ability to afford medications
Their access to food or transportation
Abuse
Depression
And other high-risk indicators

Because of lasting stigmas and self-perceived shame around these topics, we've found that patients are more likely to be honest about their risks and situations without face-to-face interactions. Consider using patient-driven surveys for your team's clinical screenings and assessments.

SONIFI Health's platform can implement on-screen prompts and surveys, charting patients' responses back into your EHR and alerting discharge planners or other resources when needed.

Community resources

Connect patients and their caregivers with local resources that can assist them after discharge, such as support groups, transportation or meal services, and United Way agencies.

You can increase awareness of community support options through:

Let patients know they're not alone and that help is available. When they feel prepared and supported, they're more likely to follow care plan instructions post-discharge.




Medication compliance & equipment needs

If you have an on-site pharmacy and home care store, create options for patients to fill prescriptions and have special medical equipment delivered to their room before discharge.

Promote your hospital's meds-to-beds program on your iTV, digital whiteboards and digital signage.

Use request features on your interactive technology for patients to order any assistive devices or equipment they need from the bedside.

These conveniences ensure patients have all the tools they need before going home, and give them a chance to ask the care team any questions they have.

This extra preparation not only helps the patient feel satisfied and confident, it also increases the likelihood of adherence to the care plan, and decreases the likelihood of medication errors, complications and readmissions.

Discharge preparation

Your team can assess a patient's level of discharge readiness by asking them to confirm things like:

I understand my medical condition.
I understand my plan of care.
I can get my medications and assistive devices.
I understand when I need to follow up with a provider.

A customized discharge checklist can reinforce a patient's confidence in their next steps, as well as identify areas where they need more education or conversation. It's also a prime opportunity to make sure family caregivers are part of the discharge planning process, too.

SONIFI Health's interactive platform can automate discharge checklists based on care plans or conditions, prompt patients to reference and respond to them, and notify appropriate staff as needed.

To further promote discharge readiness, some SONIFI Health customers also create a dedicated "discharge channel" on their iTV to highlight community resources, support groups, public health initiatives, patient portal registration and benefits, reminders for patients and their families, and other details relevant to a unit's specific patient population.

The patient portal

Your patient portal can be an essential bridge for patients as they navigate through multiple care settings. Providing access to prescribed education post-discharge can help patients confidently manage their health condition, and keeping communications open can help patients stay in compliance with their care plans.

During a patient's stay, take advantage of places you can remind patients to register for your hospital's portal. For example, many of our customers have been using QR codes on digital whiteboards and interactive TVs to connect patients directly to their portal registration.

Displays in your hospital can also reinforce the convenience benefits of the patient portal, such as:

Easy patient-provider communications
Access to education videos and care instructions
Follow-up appointment scheduling and reminders
Prescription refills
Transparent access to their medical information
A prepared patient is a successful patient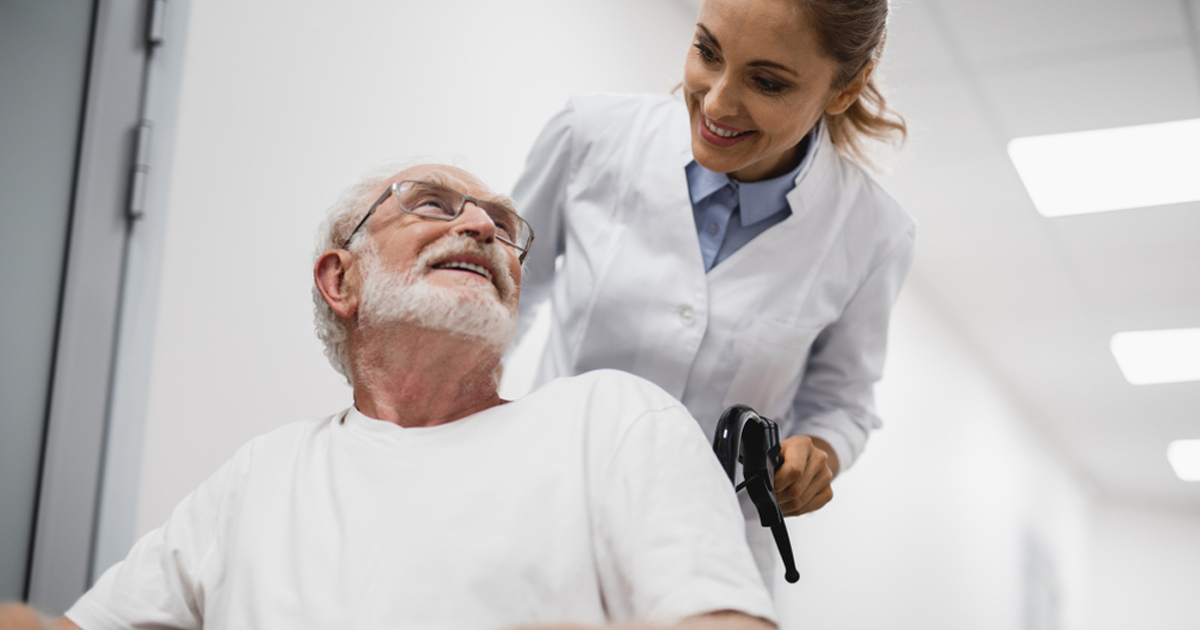 Preparing a patient for discharge is more than addressing their immediate care needs. By intentionally focusing on successful transitional care, you are also setting them up for continued positive health outcomes, decreasing the likelihood of readmissions, and improving the patient experience from admit to discharge and beyond.
Technology can play an important role in helping patients and clinicians achieve successful transitions of care. 
Stay Connected
Get exclusive insights delivered to your inbox from our experts.