March 25, 2021
. . .
Nurse burnout has been a hot topic for years, even more so since COVID-19.
Much more than just exhaustion and stress, nurse burnout can lead to medical mistakes, high turnover and even suicide.
As a registered nurse myself, I know the importance of helping to reduce and prevent nurse burnout.
Here are five areas to start.
1. Create a supportive environment
Mentor and preceptor programs are a great way to foster strong relationships on your team. Whether a nurse is new to the field or just new to your hospital, having a go-to person can help them feel supported from day one.
When possible, let your staff take breaks together. Casual conversations can help decompress during a tough shift, and connect to teammates on a personal level.

Ask unit leaders to keep a pulse on morale. If you see staff struggling, encourage them to voice their frustrations. Knowing they have a safe space for constructive conversations can help your nurses feel less alone in their struggles.
2. Show appreciation
Take time to recognize nurses' efforts as often as you can, from shout outs in daily huddles, to organization-wide appreciation events.
Designate a whiteboard, bulletin board or digital screen in the break room for your team to leave notes of thanks or recognition for their co-workers. Have QR codes that lead patients to nominate nurses for a DAISY Award or your organization's internal recognition program.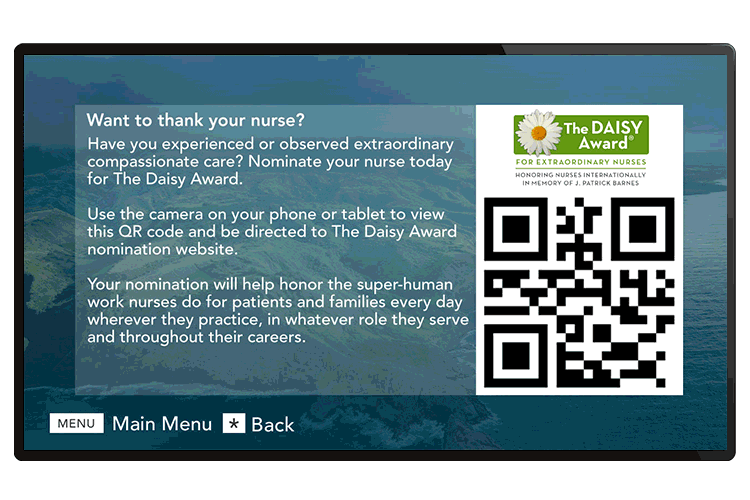 Use surveys or social media to collect thank yous to nurses from patients and the community. Share these notes widely in your internal communications (such as intranet posts, emails, digital signs and newsletters).
When feasible, give your nurses tactile tokens of appreciation, such as organization apparel, free meals and small gifts.
In big and small ways, let your nurses know how much they mean to your organization's mission.
3. Look after their personal well-being
Your team won't be able to provide the best care if they're physically, mentally or emotionally drained. Simple things that can give nurses self-care options while at work include:
Offering healthy foods (and occasional treats) for mid-shift snacks
Mapping out walking tracks around your facility for an energy boost
Scheduling visits from your pet therapy volunteers for comfort and stress relief
Setting up a mindful space with soft lighting, soothing sounds, relaxing images and comfortable recliners for staff to recharge or even take a nap
Coordinating with local resources to offer massages, yoga sessions or music performances for restorative breaks
Regularly spotlight helpful services and resources available to nurses, including your organization's Employee Assistance Program (EAP). Allow your staff time off to get the care, therapy or support they need.

4. Streamline workflows
Ask your nurses what's bogging down their workflow. Work with your vendors to see if technology can automate these tasks.
For example, going digital with patient room whiteboards could save your staff 9 hours per day, just by automating the information that displays on the whiteboards.

ALSO TAKE A LOOK AT CREATING EFFICIENCIES WITH:
Patient education: An engagement platform integrated with your EHR can automatically assign condition-specific education, push on-screen reminders to patients, deploy comprehension surveys, and chart back results to your nurses.
FAQs: Proactively give patients and families details about your facility — like Wi-Fi access, visiting hours, dining options and in-room services — so nurses don't have to communicate the information every time. These FAQs could be on table cards or digital displays in the room.
Meal ordering: CBORD integrations on your interactive system let patients place meal orders without nurses needed as a go-between for your dietary staff. Even without an integration, simply displaying menus and dietary restrictions can proactively answer patient questions.
Care plans: Give patients access to care information they ask most about. Use interactive displays to show patients their schedule, explanations of their condition, medications and upcoming procedures, and photos and bios of their care team to create personalized connections.
Patient requests: A lot of nurse call lights are for things that don't actually need nursing intervention. Use feedback features on your interactive system that automatically route non-clinical requests — an extra blanket, a chaplain visit, etc. — directly to the applicable staff without interrupting nursing workflows.
Use the technology you already have to eliminate repetitive and time-consuming tasks for your nurses, so they have more time for meaningful bedside interactions.
5. Give patients autonomy
Empower patients to self-serve and access what they want most, whether it's care information, entertainment or relaxation content.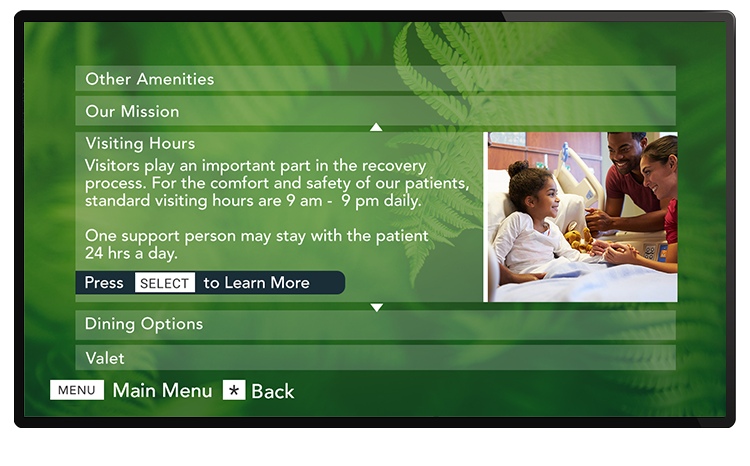 An interactive patient engagement platform can provide all this and more, and is especially effective when it's designed to be intuitive for patients to use, without needing assistance from nurses.
Providing a variety of positive distraction for patients can help reduce their anxiety, provide comfort, and give a sense of control when patients want it most — often reducing call lights for nurses.
Positive distraction could include: television programming, on-demand movies, streaming connections, music, pet therapy, motivational, relaxing and spiritual content, or creative outlets you have available on site.
Caring for your team, so they can care for patients
Just like there's not a single source of nurse burnout, there's not a single way to help prevent or reduce it for your team.
What's important is giving your staff the same attention you give your patients.
Don't underestimate the power of kind words, personal touches, and a welcoming environment.
Have tools in place that make sure your nurses can complete critical tasks uninterrupted. Cut out the busywork. Recognize their efforts. Offer support and encouragement.
From no-tech approaches to high-tech strategies, preventing nurse burnout starts with a commitment to caring for your teams who care for your patients.
Stay Connected
Get exclusive insights delivered to your inbox from our experts.