JULY 9, 2020
. . .
Whiteboards have been a part of the communication process in hospitals for over 30 years.
I personally have used whiteboards for most of my nursing career and have found them to be an effective communication tool.
Although originally used as a communication tool between staff, the whiteboard has transformed into a valuable resource for patient and family communication.
With new technologies and integrations, patient whiteboards continue to enhance patient care.
Early days of whiteboards in hospitals
When originally used in hospitals, whiteboards were called grease boards and were used for staff communication.
A primary example of their early presence in hospitals was in operating suites. The boards indicated which surgical patients were going to which rooms, and the staff involved for each procedure.
Having success in operating suites, whiteboard use then quickly spread to nursing teams for communication between each other about staff assignments, shift changes and patient placement. These whiteboards (now typically dry erase boards) were, and are, often located near a unit's nursing station for easy reference among the team.
Whiteboards for patient-centered communication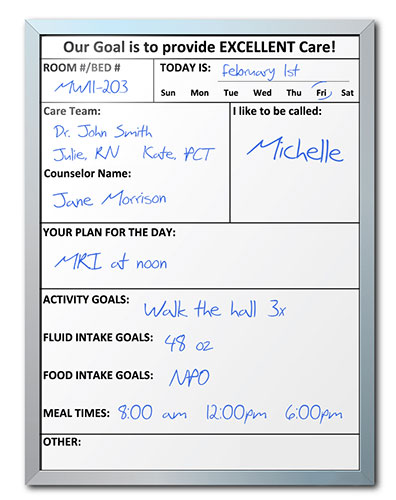 Whiteboards eventually were added into patient rooms to help increase and improve communication between patients, staff and family members.
This move especially picked up about 20 years ago, when the Institute of Medicine placed an emphasis on patient-centered care1 that relies on effective and frequent communication.
Hospitals and clinicians have since used patient whiteboards as a simple communication tool to increase patient satisfaction2, correlating better informed patients with a better care experience.
The trouble with traditional dry erase boards
Although whiteboards in patient rooms have been recommended by The Joint Commission3 and other organizations as a positive communication tool, they can also come with downsides.
Information on each whiteboard is solely dependent on staff managing and updating the content. About 10 years after the wide adoption of whiteboards in patient rooms, nurses in one study4 indicated that the main reasons patient whiteboards were not being fully leveraged was due to not having enough time to fill out the information on the boards, as well as the simple frustration of not being able to find a dry erase marker.
While the intent of whiteboards for communication is a great concept, updating the patient whiteboard with information that has already been entered into the patient's EHR becomes a redundant and sometimes overlooked task for nurses with already full workloads.
Over the course of my career as a nurse, and in speaking with other nurses, the consensus has been that if the patient whiteboards are not updated like they should be — with every new shift and change to the patient's care status — it causes a large amount of tension between the staff, and patient communication subsequently breaks down.
For example, if the board lists a normal diet, but the patient status has changed to NPO (nothing by mouth), it can not only give the impression of disconnected or ill-equipped care teams, it can even turn into a safety issue.
Many similar situations related to current activity level, discharge date, or even preferred family contacts switch a whiteboard from a helpful communications tool into an object that creates unneeded difficulties.
The digital difference with patient whiteboards
In the past few years, patient whiteboards have started going digital. And hospitals are seeing the benefits across the board. (No pun intended.)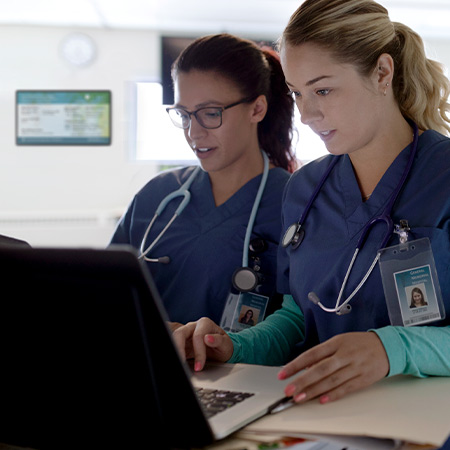 With digital whiteboards, the frustrations and challenges of maintaining an accurate display are eliminated. Integrating with the EHR and hospital system data allows the boards to automatically update and stay current as a patient's status changes.
In an impact study of digital whiteboards, we've found that these integrations and automations can save staff nearly 9 hours per day, improve education completion rates and create significant hospital ROI.
Nursing teams I've worked with have genuine excitement about digital whiteboards being installed in their facilities. They see this technology as a win for all.
Clinical staff are not taxed with continually updating the content, and patients are informed and empowered with their real-time care information. Not to mention, nurses no longer have to track down that always elusive marker.
The future of patient communication is here
For healthcare organizations across the country, COVID-19 upended how we provide patient-centered care. Hospitals had to quickly adopt new protocols and processes to keep everyone safe. Needing to communicate efficiently and effectively with families and patients in isolation, many hospitals turned to technology, including digital whiteboards.
Innovative ideas were fast-tracked in this critical time, and the benefits of digital whiteboards to staff, patients and families have been highlighted more than ever.
And now, in our new normal, we're discovering that smart hospital rooms aren't just the future — they're here now.
When digital whiteboards are part of the patient room, everyone wins.
. . .
Editor's note: This article was originally published April 26, 2018. It has been updated for comprehensiveness and freshness.
Stay Connected
Get exclusive insights delivered to your inbox from our experts.