APRIL 28, 2020
. . .
Nursing as a profession values certification.
Many nurses pursue certifications to demonstrate their skills and knowledge1 in a specialized field. Organizations often look for professionals who take this step of certification to support their dedication to nursing excellence, and to promote the best possible care for patients.
There are dozens of specialty certifications2 available. One I have recently completed is becoming a Certified Patient Experience Professional (CPXP), a designation that aims to benefit healthcare organizations, employees and, of course, patients.
Patient experience certification
Offered by the Patient Experience Institute, the certification to become a patient experience professional shows that the individual has the competency and experience to be a leader in influencing systems, processes and behaviors of healthcare organizations to create a positive experience across the continuum of care.3
Certification requirements include a minimum of three years in a professional role related to engaging in patient experience, passing a rigorous exam and recertifying every three years to maintain the CPXP designation.
Since its inception in 2015, only 864 individuals throughout the world hold this certification. 4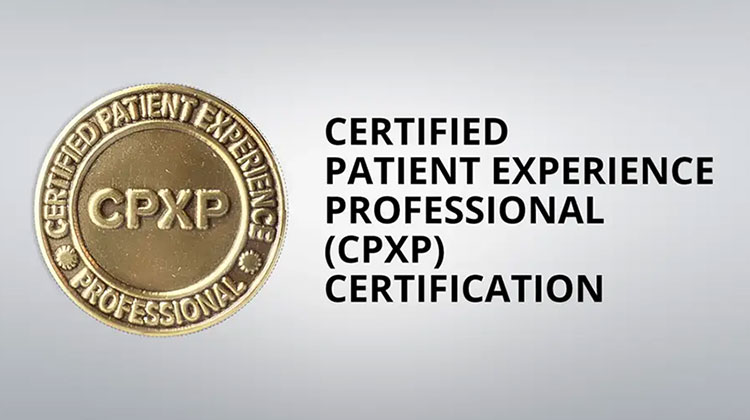 Taking the CPXP exam
The exam itself covers four domains of patient experience:
Partnership and advocacy
Measurement and analysis
Design and innovation
Organizational culture and leadership
There are several knowledge points and skills required for each of these domains.5
I found the exam to be an excellent representation of what is necessary to be considered an expert in this important and growing field of healthcare.
How PX fits with my job
In my role as a nursing executive, I do anything I can to help teams succeed — I want them to meet their clinical goals, to find ways to streamline their workflows, to have valuable interactions with each other and with their patients.
Patient experience an integral part of all of that.
As I prepared for the CPXP exam, I took note of how many ways my organization, SONIFI Health, can play an important part in each of the four domains of patient experience.
We can promote partnership and advocacy by offering patients feedback and survey options throughout their stay, as well as ensuring an organization has the opportunity to address concerns immediately.
Through our in-house and joint research, we continuously evaluate how we can impact patient outcomes using measurement and analysis.
Design and innovation are the cornerstones of SONIFI Health as we use technology to engage the patient in ways that didn't seem possible just a few years ago.
Knowing the critical importance of patient experience to healthcare organizations, SONIFI Health makes PX a priority in our technology, our solutions, and our partnerships.
SONIFI Health employees, including myself, are encouraged to be educated on PX, to regularly seek input from healthcare providers and the industry, and to share best practices from our clinical perspective and our relationships with customers.
I am proud to join my SONIFI Health colleagues as a Certified Patient Experience Professional.
Taking this step shows our ongoing commitment both as individuals and an organization to provide the expertise, leadership and support needed to help our customers continue to improve patient experience.
. . .
Editor's note: This article was originally published May 28, 2019. It has been updated for freshness and comprehensiveness.
Stay Connected
Get exclusive insights delivered to your inbox from our experts.