May 28, 2019
. . .
Nursing as a profession values certification. ANCC states, "Professional certification is a voluntary designation earned by individuals who demonstrate an exceptional level of competency, skill, and knowledge in their field."(1) Organizations often look for professionals who have taken this step of certification to support their dedication, skills and knowledge in their chosen specialty.(2) Patient Experience Certification is a newer designation and aims to benefit healthcare organizations, employees, and of course, patients.
Patient Experience Certification
I recently sat for the Certified Patient Experience Professional (CPXP) examination offered by The Patient Experience Institute. This certification shows that a healthcare professional or other individual with a minimum of 3 years of experience is competent to act as a patient experience professional in a role where he or she can influence the systems, processes, and behaviors of healthcare organizations to create a positive experience across the continuum of care. As of 2018, only 864 individuals throughout the world hold this certification.3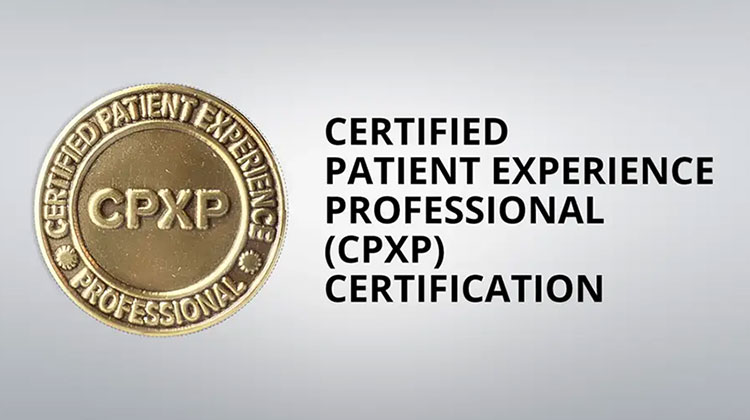 Taking the Exam
The exam itself covers four domains of patient experience, partnership and advocacy, measurement and analysis, design and innovation, and organizational culture and leadership. There are several knowledge points and skills required for each of these domains.4  I found the exam to be an excellent representation of what is necessary to be considered an expert in this important and growing field of healthcare.
How PX Fits with my Job
I also noticed that my organization, SONIFI Health, even as a solution provider can play an important part in each of the four domains. We can promote partnership and advocacy by offering the patient a feedback questionnaire and ensuring an organization has the opportunity to address concerns immediately. Through our in-house and joint research, we continuously evaluate how we can impact patient outcomes using measurement and analysis. Design and innovation are the cornerstone of SONIFI Health as we use technology to engage the patient in ways that didn't seem possible just a few years ago. Knowing our clients value patient experience, SONIFI Health as an organization makes patient experience a priority. They encourage the clinical staff, like myself, to be educated on PX, to regularly seek input from health care providers and the industry, and to share best practices.
I am excited to be joining my SONIFI Health colleagues as a Certified Patient Experience Professional.  Taking this step shows our commitment both as individuals and an organization.
Stay Connected
Get our newsletter and receive exclusive product details, research and industry news.