NOVEMBER 10, 2021
. . .
At first glance, children's hospitals may seem identical to any other hospital, just with smaller patients.
But nearly everything at a children's hospital — from equipment and procedures, to bedside care and room environment — is uniquely adapted for the pediatric patients.
And technology is playing an increasingly important role in all of it, even beyond the direct care the children need.
A willingness to try new things
In my 30 years as a nurse, I've seen the most innovation and the most teamwork in children's hospitals.
It's especially heart-wrenching to see a child who is sick or hurt. They're too young to fully understand what's going on, why they feel bad, and who all these strangers around them are.
Healthcare workers in children's hospitals are typically very open to all ideas of how they can help a child get well or feel better. There's rarely anything routine about treating a scared, emotional, wide-eyed child, so trying new approaches is done frequently in these settings.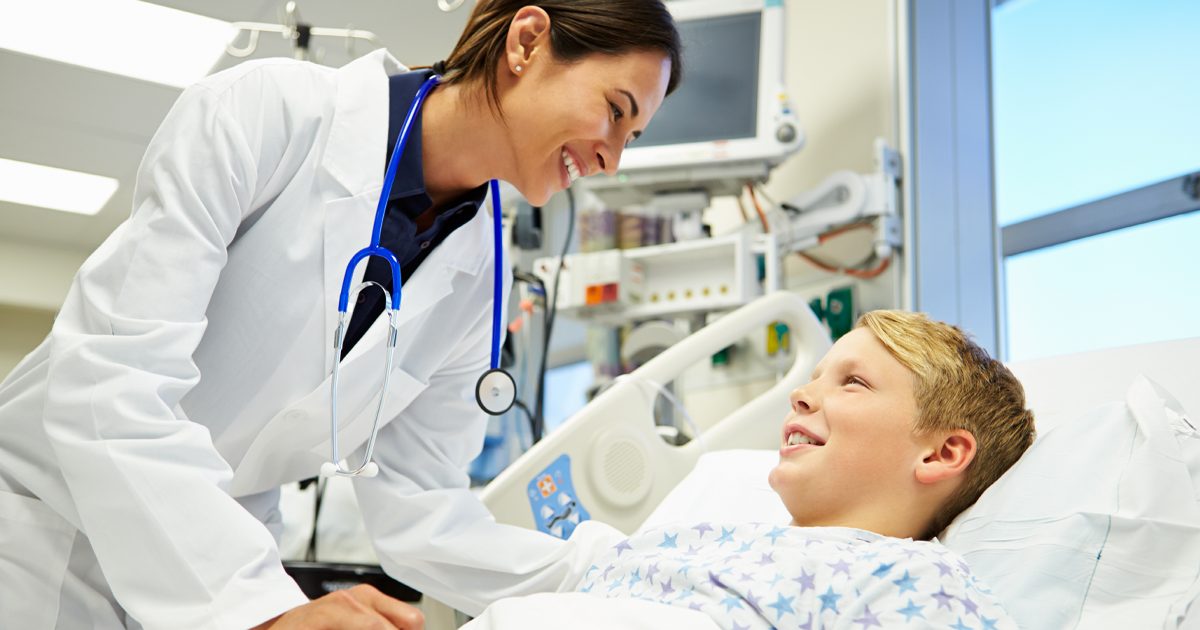 Distraction and familiarity go a long way
Children's hospitals are acutely aware of the impact the environment can have on pediatric patients. Loud noises and big machines are scary. An unfamiliar bed and new smells make them squirm. Being constantly told to sit still and wait in a small room can be agonizingly tedious.
In every pediatric setting I've been to, they take steps to make the areas as calm and comfortable as possible.
Decor is often very colorful with adorable cartoon characters prominently featured throughout the facility. Games, toys and TVs are in just about every room.
Routine procedures like getting an MRI come with extra attention to kid-friendly details like soft music, something fun to watch, dim lights and someone who holds their hand the whole time.
Many of these changes in children's hospitals do two very important things for kids: Give them a sense of familiarity in a very unfamiliar place, and distract them in situations they would otherwise resist.
When a child is calm, procedures can go faster, results can be clearer, and clinicians can focus on what they do best: Caring for the patient.
Adapting technology to appeal to kids
As a nursing executive with SONIFI Health, I've had the privilege to work with several children's hospitals as they install and implement our platform at their location.
It's been great to see how the clinical, administrative and operations teams on both sides work together on tailoring our technology to best appeal to children and serve their families.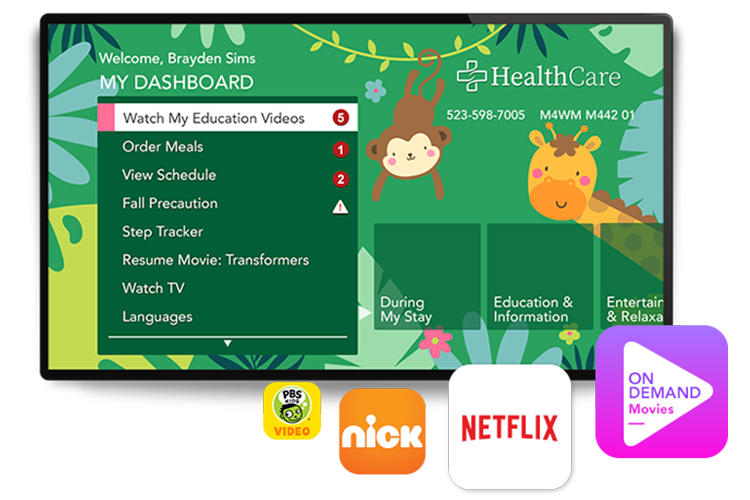 Something as simple as adding a playful background image on the screens in a patient room — such as on the digital whiteboard and interactive TV menu — makes the devices with important information more engaging and fitting for the young audience.
And providing a variety of positive distraction tools gives children some of the comforts of home when they need it most.
The in-room TVs have a full channel lineup to tune into a favorite program, music channels to hear happy songs and a large list of family-friendly movies to watch at any time throughout their stay.
Several locations' systems also include STAYCAST, which is a free way for patients to stream content from mobile devices to the in-room TV. Powered by Google Chromecast, more than 2,000 apps — including Netflix, Disney+ and Hulu — are available to stream from.
The teams I talk to say parents are especially grateful for making it easy to comfort their kids when they're anxious or in pain, and to help pass the time when cabin fever sets in.
Technology is more than entertainment
When our SONIFI Health team meets with pediatric hospitals, our discussions are always focused on the children they're helping, and what we can do to make their experience feel less distressing. And the technology solutions we adapt with them aren't simply "fun" additions to the facility.
They're tools to help soothe patients, to keep parents updated and in the loop, and to help clinicians do their work more efficiently and effectively.
I've been honored to assist other nurses in finding ways technology can help make their job easier and their time with patients more meaningful, especially in this specialized setting where the patients need their attention and their care more than any other place.
And I'm excited about future partnerships with children's hospitals — because when we see how some special coding behind the scenes and clicks of a button in the room can bring a much-needed smile to a child's face, it makes everyone's day better.
Stay Connected
Get exclusive insights delivered to your inbox from our experts.