October 27, 2020
. . .
"Rate your pain on a scale from 0 to 10, with 0 being no pain and 10 being the worst pain imaginable."
For years, doctors and nurses have used this pain scale1 to quickly assess a patient's pain and determine the appropriate dosage of pain relievers to administer.
Over the past couple decades, many providers' go-to for providing near-immediate pain relief was to prescribe opioids. While an effective treatment for pain, the drug class2 is highly addictive and has resulted in a national opioid epidemic3.
To combat the over-prescription of opioids and provide better holistic care, hospitals have sought to better understand a patient's pain, as well as offer alternative pain management methods that are still effective.
Pain measurement is more than a number
Pain measurement4 is subjective. What one person rates as a 4 could be another person's 8 on a pain scale.
The perception of pain is affected by more than the objective physical cause of pain. A person's current emotions, past experiences with pain, situation surrounding the cause of their pain — even their age, race, gender and physical environment — can all influence5 their personal perception, and measurement of pain.
So relying solely on subjective patient-given ratings of pain severity on an objective scale is limiting when it comes to effective pain treatment.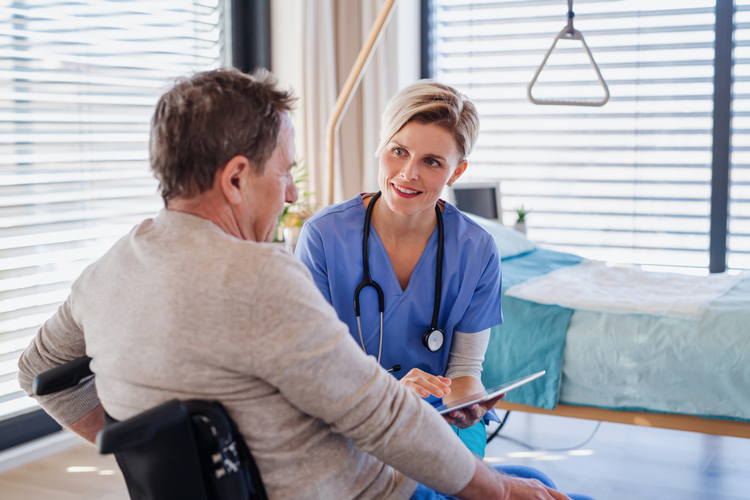 Communication and pain management
Communication plays a critical role in successfully treating a patient's pain.
It's important that patients understand how to use the scale6 to rate their pain, but it's just as important for clinicians to ask follow-up questions to get a better perspective on appropriate next steps.
How often do they experience this level of pain? Does the pain impact their ability to complete daily activities? Is the pain in just one area of their body, or multiple? Is this pain related to an acute condition or a chronic condition? What makes the pain lessen or worsen in intensity?
Clear and constant communication with patients is an industry-wide emphasis, and a crucial part7 of HCAHPS scores.
Creating pain management goals with the patient, and communicating expectations about when and how to achieve those goals, is a much more productive and sustainable approach to pain management than relying solely on pharmacologic solutions.
The pain severity numbers should be part of a pain management discussion, but how to achieve those goals will be different for every patient.
Individualized care plans for pain management
Pain management more than administering an accurate dosage, because pain is more than just a physiological response. A patient's psychological and emotional well-being influences their perception of pain — so managing their pain should address those factors as well.
This holistic look at pain8 can help clinicians create individualized pain management plans that educate patients about monitoring, communicating on, and coping with their pain.
A comprehensive pain management strategy should complement necessary pain medication administration with integrative health options9 that are appropriate to that patient and their specific situation, such as physical therapy, stretching, meditation and positive distraction.
These individualized care plans allow for earlier interventions and strategies that reduce the likelihood the patient will need pharmaceutical intervention to control their pain10 .
Positive distraction as a pain management strategy
Positive distraction is often referred to as patient entertainment, but the benefit of patient access to favorite programs11, music12 and soothing images13 goes beyond keeping the patient occupied and entertained.
When patients sit in hospital waiting rooms or recovery rooms with nothing to do or think about except for their pain, they often experience increased anxiety and report high levels of pain14.
Nurses — and researchers — have long found positive distraction to be an effective pain management technique.
Positive distractions not only limit the patient's attention available for pain, but it may also influence their perception of pain by altering emotions, thoughts and moods. It can also provide them a sense of familiarity and control in a place they may feel like they have none.
Pain management strategies with SONIFI Health
SONIFI Health's interactive platform is built to activate patients during their stay, engaging them in their care.
Offering patients accessible personalized education and a variety of positive distraction options is key to addressing their specific pain management strategies. Pain perception is different for every person, and their preferences for content will be just as different.
SONIFI Health's patient engagement platform offers positive distraction outlets such as:
On-demand movies
TV programming
Streaming content
Music stations
Relaxation & spiritual content
Custom channels & more
"We are seeing an increasing trend with our partnering healthcare facilities leveraging distraction content as part of their pain management strategies," says Austin Winberg, SONIFI Health's Director of Clinical Outcomes.
"Managing the patient's pain during their stay has significant implications on patient recovery and outcomes," Winberg says. "An interactive system is one way that pain management can be addressed throughout the care continuum."
As hospitals look for innovative ways to manage patient pain, the ability to empower patients in their own care is a solution that demonstrates benefits throughout the patient stay and during their transition of care.
As clinical evidence suggests, leveraging positive distractions, patient education and communication, and an interactive platform should all be factors that hospitals consider as part of their pain management strategy.
Contact SONIFI Health to learn more about how our interactive systems can help improve your patients' experience.
. . .
Editor's note: This article was originally published in January 2018. It has been updated for freshness and comprehensiveness.
Stay Connected
Get exclusive insights delivered to your inbox from our experts.