JULY 27, 2020
. . .
Offering positive distraction to your patients isn't just a soft amenity. It can have real impact on their healthcare journey and your facility outcomes.
We looked at usage data from nearly 200,000 admitted patients receiving prescribed education at 26 hospitals.
With the preliminary data collected, we have observed that patients who view more education titles and submit survey feedback are the patients who spend more time watching movies on the in-room interactive television.
An integrated patient engagement platform has many clinical applications, but motivating patients to use the system can sometimes be a challenge.
Providing patients something they want while in the hospital — distraction and entertainment — can be the conduit to activating them to use the platform, which in turn increases the likelihood of engagement with the clinical and patient experience features also offered on the system.
Entertaining movies and educational videos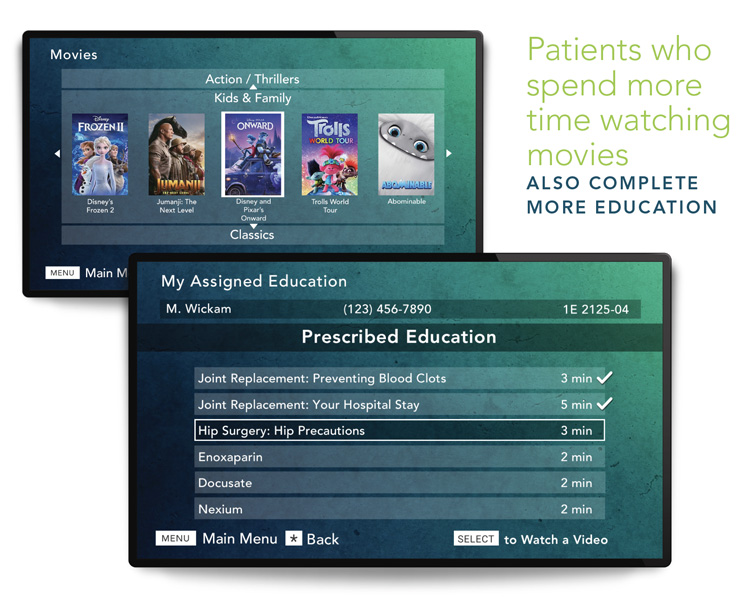 Over a 12-month time period, 26 acute care hospitals admitted a total of 290,287 patients, 65.73% (190,793) of whom were prescribed education to watch on their in-room TV system.
Of the patients receiving education orders, those who watched at least one prescribed education title on average viewed more education titles and watched more minutes of movie content on the in-room TV system than patients who did not view any education videos.
Learn more about our findings by downloading the positive distraction and patient activation case study.
Real-time feedback from the in-room TV
We've also looked at data from three hospitals that include a feedback survey for patients on the interactive TV system.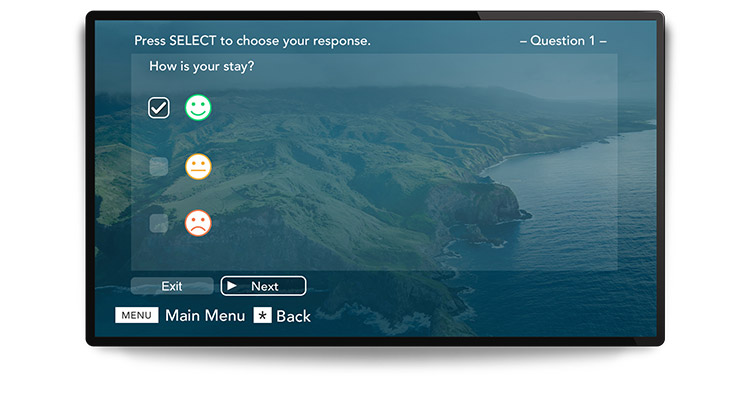 Survey questions asked patients to rate things like the communication from clinicians, their perception of care and their overall experience.
The patients who submitted survey feedback to the hospital were the patients who spent more time watching movies and who watched more education titles.
Patients who provided this valuable feedback data for health systems watched an average of 5.2 times the amount of movies and 3.7 times the amount of education than those patients who did not submit any survey feedback.
Balancing what you need patients to do and what patients want to do
A patient engagement platform that offers both high-quality positive distraction and easily accessible education videos can be a key integration to improving outcomes.
Usage data is suggesting that the more a patient engages with the system to access positive distraction, the more likely they are to also use the system to comply with education orders, as well as to give feedback that staff can address before the patient is discharged.
For example, the more time patients spend watching entertainment correlates with more education titles viewed — and the more time patients spend watching education correlates to higher ratings of care.
Also valuable to success are the neutral or negative survey responses patients submit while still admitted. By providing feedback before leaving, the hospital has time to address concerns or accommodate requests, decreasing the chance the patients will submit neutral or negative survey responses after their discharge.
When patients are in a comforting environment, have their feedback valued and better understand their care plan or condition, it all contributes to a better patient experience, prepares them to have a shorter length of stay and decreases the likelihood of readmission.
Stay Connected
Get exclusive insights delivered to your inbox from our experts.