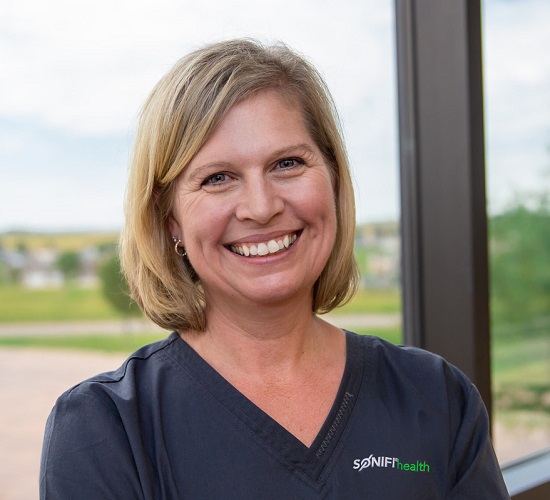 Meet Julie Westrick from our clinical staff. She brings extensive experience in women's and children's care, and a passion for inspiring nurses and improving patient care.
Registered Nurse (RN)
Certified Patient Experience Professional (CPXP)
Master of Science in Nursing (MSN)
Inpatient Obstetrics Certified (C-OB)
Electronic Fetal Monitoring Certified (C-EFM)
What is your role at SONIFI Health?
As a nursing executive, I answer clinical questions, assist with demos and am involved in the implementation process to help the clinical staff formulate goals and make decisions on customizing their solution. I also help train staff to use the technology effectively.
Tell us a little about your experience working in healthcare.
I have been an RN for more than 30 years, working primarily in Women's and Children's care. I have worked in Oregon, Washington, California, Nebraska, South Dakota, and now Colorado. A few years ago, I transitioned from bedside nursing to clinical education as a unit educator. This allowed me to branch out and work with other educators on hospital wide initiatives. Through this change, I found a new passion of seeing the growth of other nurses, especially new graduates.
What is your favorite part of your job?
My favorite part of the job is learning what is new and possible. I believe providing a positive patient experience is important not because it is tied to reimbursement, but it is simply the right thing to do. I love helping facilities achieve this goal.
What do you enjoy doing in your spare time?
I love to garden, read, camp, and fish. When we lived in South Dakota, you could find us out on the boat chasing walleye every weekend!
How do you think technology is changing nursing today and are there things technology doesn't change about nursing?
I have seen a lot of changes over the years. I started out charting on paper, so I can say the electronic health record has made the biggest technological impact. Technology helps nurses become more efficient, especially those who grew up interacting with technology and are comfortable with the rapid advances seen today. However, that caring touch will never be replaced. As an OB nurse, encouragement was a big part of my job. I can't imagine not having a real person coaching a woman as she gives birth.
What do you see as some of the big or new challenges facing nurses & care providers today?
One challenge is frequent budget cuts affecting both frontline and support staff. It's difficult to provide patient's the best possible experience while balancing a tight budget.
Stay Connected
Get exclusive insights delivered to your inbox from our experts.