LEWISVILLE, Texas (March 2, 2023) – CareView Communications, Inc. ("CareView" or the "Company") (OTCQB: CRVW), an information technology provider to the healthcare industry has developed an integration with SONIFI Health that allows care teams to communicate with patients using the interactive TV platform already present in the patient rooms.
This integration between CareView and SONIFI Health, which provides interactive technology solutions to improve patient engagement, is essential to creating a patient-centric, interconnected virtual care system. A centralized virtual care command center enabled by a fully integrated CareView Patient Monitoring System® serves as the epicenter of a hub and spoke telecare model across a system of hospitals. This virtual care system creates a scalable, flexible workforce that keeps patients engaged and their needs met, while providing relief to nurses by leveraging virtual staff to instantly tend to patients' needs and perform administrative tasks that do not require licensure.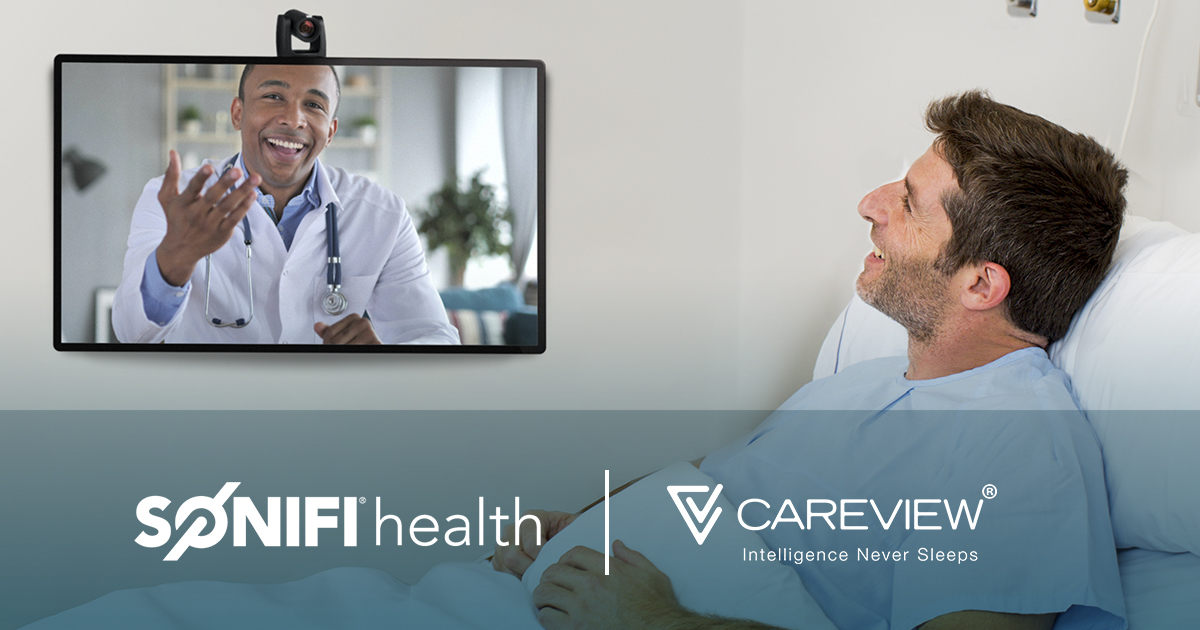 With the CareView-SONIFI Health integration, providers can easily call into patient rooms by accessing the CareView portal directly within the EHR workflow. This integral component also lays the foundation for virtual nursing, hybrid care, and Telemedicine to alleviate staff workloads and provide greater access to caregivers.
"Hospitals are facing unprecedented labor challenges and margin pressures," says CareView Chief Operating Officer Sandra McRee. "Integrating our interactive platform with healthcare technologies like SONIFI Health is key to creating a scalable and effective solution for virtual nursing to reduce labor costs and keep nurses working at the top of their license."
"CareView truly understands the challenges hospitals are facing today," says Kelly Boyd, SONIFI Health General Manager. "Integrating their virtual care solution is a great complement to SONIFI Health's interactive platform in creating smart hospital rooms with features both patients and clinicians increasingly expect and need."
About CareView Communications, Inc.
As a leader in turnkey patient video monitoring solutions, CareView is redefining the standard of patient safety in hospitals and healthcare facilities across the country. For over a decade, CareView has relentlessly pursued innovative ways to increase patient protection, providing next generation solutions that lower operational costs and foster a culture of safety among patient, staff and hospital leadership. With installations in more than 150 hospitals, CareView has proven that its innovative technology is creating a culture of patient safety where patient falls have decreased by 80% with sitter costs reduced by more than 65%. Anchored by the CareView Patient Safety System, this modular, scalable solution delivers flexible configurations to fit any facility while significantly increasing patient safety and operational savings. All configurations feature HD cameras, high-fidelity 2-way audio/video, LCD displays for the ultimate in capability, flexibility, and affordability. Corporate offices are located at 405 State Highway 121 Bypass, Suite B-240, Lewisville, TX 75067. More information about the Company and its products and services is available on the Company's website at www.care-view.com.
About SONIFI Health
SONIFI Health provides interactive technology solutions proven to improve patient engagement, outcomes and staff productivity. The system is delivered across multiple technology platforms including mobile devices, televisions, computers and digital displays to enhance patient and family experiences while increasing hospital operational efficiencies. As part of SONIFI Solutions Inc., the company supports more than 500 million end user experiences every year. Learn more at sonifihealth.com.
Forward Looking Statements
Statements made in this release that are not statements of historical or current facts are "forward-looking statements" within the meaning of the Private Securities Litigation Reform Act of 1995. We caution readers that forward-looking statements are predictions based on our current expectations about future events. These forward-looking statements are not guarantees of future performance and are subject to risks, uncertainties and assumptions that are difficult to predict. Our actual results, performance, or achievements could differ materially from those expressed or implied by the forward-looking statements. We undertake no obligation to publicly update or revise any forward-looking statements, whether as a result of new information, future events or otherwise that occur after that date, except as required by law.
View the press release on Businesswire.
Stay Connected
Get exclusive insights delivered to your inbox from our experts.