JANUARY 26, 2023
. . .
It takes more than buying pieces of technology to make smart rooms that are truly smart.
Patient rooms that incorporate connected smart technology can improve your hospital's operations, your staff's efficiencies, and your patients' experience.
But there are some basic considerations to factor in before you purchase or install new technology.
Why hospital smart rooms are a smart decision
When weighing if smart rooms are worth it for your hospital, consider the wide-reaching benefits of:
Improved clinical outcomes thanks to dynamic communications channels, on-demand education about health conditions, and easy access to individualized care plans
Enhanced patient experience thanks to personalized displays, autonomous bedside and mobile controls, and soothing comforts when they need it most
Higher efficiency and fewer unnecessary in-room visits thanks to integrated virtual care solutions and systems that have patient-driven features and requests
Greener practices thanks to automations tied to occupancy status or time of day, energy-efficient displays, and control ranges for room environment selections
What to consider with hospital smart rooms
Deciding you want your patient rooms to have smart technology comes with a lot of options. Here are 10 considerations to keep in mind as your hospital creates smart rooms:
1. What are your goals?
First determine what you want to accomplish before focusing on how to accomplish it. Selecting technology that fits your goals will help make sure your decisions bring value and fit cohesively with your organization's priorities.
2. Do you have the right team?
Find consultants who know these technology systems and infrastructures inside and out. They can help you architect how the smart room tech is going to fit within your world — making sure it's easy to use, reliable, beneficial and seamlessly integrated.
3. What do the end users want?
Any technology you're considering should improve patient experience and staff satisfaction. Think about:
Will the new tech add to staff workloads, or help make them more efficient?
What options can you give to patients that can make them feel at ease and connected to their care team?
Are there room controls that patients can adjust from the bedside (saving a nurse call and preventing falls)?
4. What input devices will you have?
Think about where and how you'll offer smart room features. Consider the in-room TVs, bedside tablets, pillow speakers, voice assistants, telehealth solutions, patient mobile devices (BYOD), automatic feeds based on ADT or real-time location system (RTLS), and more.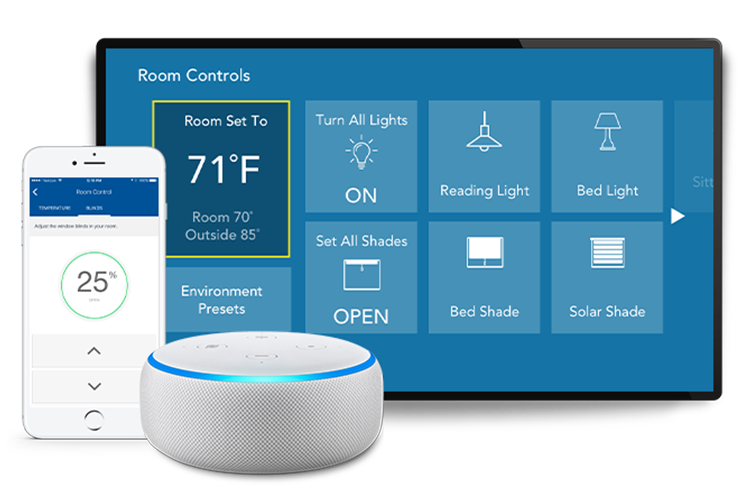 5. What's the full potential?
A lot of decisions are made without enough information or input about how to maximize the value of the technology.
For example, many hospitals think of integrating temperature controls for patients, when they should also consider integrating controls for lights and window blinds as well.
Other didn't consider that lighting controls aren't just "on" and "off." Smart controls can be put in place to adjust light levels, and to separate zone configurations in various parts of the room.
6. Do you have the right systems and wiring?
Make sure you choose the correct technology for your needs, and wire it appropriately.
For example, I've worked with customers who bought smart blinds but didn't run the right wires to control them — or didn't buy smart blinds at all, assuming they could be wired to be remotely controlled.
The room controls for temperature, lights and blinds can all be integrated with your Building Automation System (BAS) to offer the best capabilities for you and your patients.
7. What are the infrastructure needs?
For each technology system, factor in:
Power: Does the display need 120VAC, DC or PoE (Power over Ethernet)?
Wiring: Will existing RF coax or IP cabling support the technology, or is an upgrade required? Is there wiring where additional digital displays will be added? Does the wiring connect correctly to your BAS?
Connectivity: Does the system need to be connected via wired Ethernet, or can it work off Wi-Fi? Do you have a unified or segregated LAN? How will BYOD functions be handled on your Wi-Fi? Would a private LTE or 5G network be best for your system needs?
Retrofitting: Is there cabling already in the room that can be converted and connected to new devices? Are there switch ports or unused data ports in the room you can leverage?
8. Are your systems connected?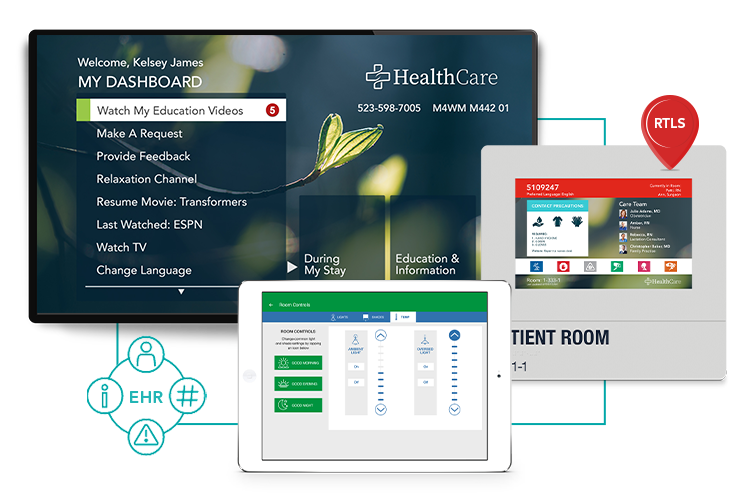 Think about how smart room technology can tie different systems together to really provide an extraordinary experience for your patients.
For example, your goals can inform if you should incorporate:
Interfaces driven by EHR and ADT information to personalize displays
Mobile or voice-activated controls for the TV to offer familiar and contactless control
RTLS and Active Directory features on digital whiteboards and digital door signs to improve care team coordination and connections
BAS integrations with ADT to remotely reset and regulate temperature, lights and shades
9. What's the TCO?
Don't just compare upfront costs when deciding what smart technology to add to patient rooms. Consider the total cost of ownership (TCO).
Factor in the impact of more efficient LED display models, the cost and support requirements for in-room hardware, how many separate devices need to be maintained, and how extensively the installation, implementation and ongoing usage of smart technology will affect your hospital's operations.
10. What's the long-term plan?
We know technology will evolve, and the demands being placed on your hospital will change over time.
If your organization strategically designs and architects smart room technology, it will be easier to evolve in the future, and to efficiently adapt the same strategy in additional locations.
Hospital smart rooms: Next steps
Smart rooms are really complex. There's a lot of considerations to factor in, from the display make and model, to the handheld devices, to the wiring and infrastructure in each room, to new construction or retrofitting, to the integrations needed to create connected experiences.
The good news is you don't have to make these decisions all on your own.
Focus on what you want to accomplish, not what technology is available. What experience do you want to give to patients and staff? Let technology partners like SONIFI Health craft how that actually implements and connects on a cohesive system for your hospital.
Whether you're renovating, building or upgrading, set yourself up for success by making smart decisions about smart rooms.
Stay Connected
Get exclusive insights delivered to your inbox from our experts.