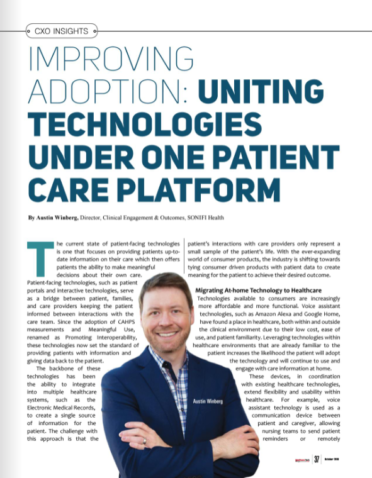 [Oct. 12, 2018] Austin Winberg, Director, Clinical Engagement & Outcomes at SONIFI Health, shares his thoughts with Healthcare Tech Outlook . He discusses migrating at home technology to healthcare, the potential in patient wearables, and how technology ups connected care expectations.
"The current state of patient-facing technologies is one that focuses on providing patients up-to-date information on their care which then offers patients the ability to make meaningful decisions about their own care. Patient-facing technologies, such as patient portals and interactive technologies, serve as a bridge between patient, families, and care providers keeping the patient informed between interactions with the care team. Since the adoption of CAHPS measurements and Meaningful Use, renamed as Promoting Interoperability, these technologies now set the standard of providing patients with information and giving data back to the patient.
The backbone of these technologies has been the ability to integrate…"
Read the full story here.
Stay Connected
Get exclusive insights delivered to your inbox from our experts.