MAY 25, 2022
…
Achieving health equity for every patient you see won't happen overnight.
But there are simple things you can do throughout the patient journey to make a big difference in your organization's diversity, equity and inclusion efforts — while also improving patient satisfaction and care.
There are many things that can affect health equity1 in your community and specific facility, including a patient's:
Race, ethnicity, religion & culture
Language, education & health literacy
Sex, gender identity & sexual orientation
Age, weight, physical disabilities & cognitive impairments
Socioeconomic or incarceration status, geography & housing situation

Where to start: Your staff
First and foremost, make sure your staff — both clinical and nonclinical — continuously receive implicit bias training2 and action plans are put in place to overcome the issues3 identified.
If you haven't already, look into existing programs — such as the Accountable Care Organization Realizing Equity, Access, and Community Health (ACO REACH4) Model — that can help guide your team in identifying, measuring and reducing health disparities among underserved or underrecognized populations in your communities.
Take an honest evaluation of the physical and cultural accessibility at your facilities. How do your patients feel? Where do things need to change? How can you be helpful without adding to an already stressful situation for your patients and clinicians?
Hold yourselves accountable to your diversity, equity and inclusion (DEI) initiatives. Be clear what gaps exist at your organization, how you are addressing5 them, and where people can share feedback or suggestions for improvement.
Extending your strategies to touchpoints throughout the patient journey can go a long way in supporting health equity and positive care experiences.
Health equity as patients enter & navigate your facility
Unless you're a very small clinic, patients and visitors can feel overwhelmed or confused about where they need to go once they're on site.
Hold a discovery session to discuss the trouble points in your facility that are difficult for people to navigate. Concentrate your wayfinding efforts especially on these areas to start.
Throughout your facility, make it easy for everyone to navigate by:
Sending directions to patients' mobile devices before they arrive
Having greeters & welcome signs in multiple languages
Using arrows, symbols & color-coded areas to guide patients to their destination
Displaying maps that can include alternative formats in other languages, layouts & font sizes
Providing printers at wayfinding kiosks & QR codes to mobile maps with directions

Health equity when patients check in
To know where you could make improvements, step back and put yourself in a patient's shoes.
Is it clear where they need to go first?
Make sure you clearly label exactly where the check-in process begins.
Are your doorways and counters accessible?
Make sure people who use wheelchairs, crutches or other assistive equipment won't be restricted.
Do people typically have to stand in a line to check in?
Offer alternative ways people can wait — such as taking a number or sitting in a particular area — or begin the check-in process themselves using a tablet or kiosk.
How do patients want to be addressed and communicated with?
Make it a standard practice to verify each patient's preferred language and name, gender identity and pronouns, accommodations needed for hearing or visual impairments, and religious or cultural practices to be aware of.
Health equity as patients & visitors wait
In waiting rooms, hallways and other public areas of your facility, you have the chance to provide clear and effective communications that reinforce your health equity efforts.
On digital screens and signs in these areas, consider:
Using pictures & familiar icons
Duplicating content in different languages
Including people of diversity in visuals
Promoting population health initiatives (e.g., screenings, vaccines, education, safety tips)
Creating easy access to additional hospital & community resources by including QR codes, short URLs or direct phone extensions
We recommend using digital signs for these communications because it's easy to update, simple to rotate through various languages or accessibility features, and customizable to cater to specific audiences in different locations.
Health equity while patients are admitted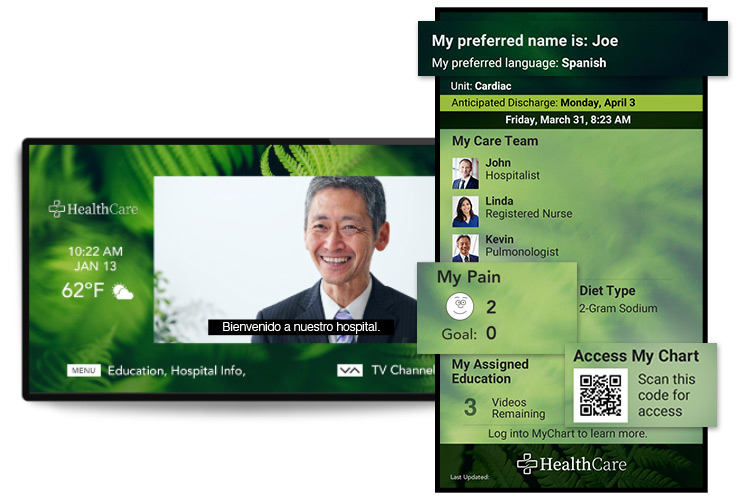 Communications
To improve bedside interactions and trust in your team, make sure nurses take note of patients' identity preferences (e.g., name, pronoun, language) by including them in the EHR, on door signs and on whiteboards. Additionally, offer inclusive language6 tips and training to continually educate your staff about the impact their conversational words can have.
Try to have multilingual resources — including facility information, education and positive distraction — available in the languages most common in your community.
If possible, offer bedside interpreter services with a live translator program or, even better, with your own staff who have a medical proficiency certification7 (include a pay differential for any staff who are able to offer their interpreter services).
If the patient has indicated specific religious or cultural practices they follow, be sure to make accommodations and allow access to spaces for their rituals.
Screenings
Some of the biggest factors8 in health equity are a person's social determinants of health (SDOH).
Screen for SDOH with accessible tools that use plain language and pictures for patients who may have very low literacy levels.
SDOH questionnaires can cover a patient's:
Health engagement scores (e.g., PAM)
Risk for depression or suicide
Identifications of abuse or addiction
Access to transportation, healthcare & food
Ability to afford follow-up care & medications
Feelings of isolation, discrimination or compromised safety
If you can, make the screenings available8 for patients to fill out themselves. They may be more honest and forthcoming about sensitive topics without face-to-face interactions, and patient-generated data inherently eliminates any implicit bias an employee may subconsciously be contributing.
In addition to providing vital information to better help individual patients, all of the data collected from screenings can help identify wider community needs, or an increase in specific needs within a community.

Feedback
To make sure each patient's individual needs are met during their stay, make efforts to solicit their feedback with surveys and during rounding.
If you have additional resources who can help patients — such as translators, social workers, financial navigators, mental health professionals and spiritual leaders — make it easy for patients to connect with them.
It can be difficult for patients to ask for these types of services, so provide patients with a discreet way of asking for assistance, such as automated digital requests.
Comprehension
It's crucial for patients (and their caregivers) to understand their condition, care plan and post-discharge needs.
In their room, you can help address health literacy10 by:
Limiting the use of text & instead using familiar icons
Offering content in simple terms & different languages
Using video, when appropriate, to provide both visual & audio cues
Providing short, condition-specific education with the most appropriate language & literacy levels for that patient
Creating easy access to additional resources
Following up with comprehension questions & teach-back techniques
Continually adding notes to their patient portal records that are easy to reference & understand (e.g., use non-medical terms, spell out abbreviations11, write in a clear but conversational tone)
Health equity while patients are being discharged & heading back home
As patients are preparing for discharge, take the time to set them up for success.
When it comes to the patient's care plan, check that they:
Understand their health condition
Have access to your patient portal
Understand how to get and take medications
Have connected with a patient navigator or case manager, if needed
Have made follow-up appointments
When it comes to addressing their SDOH and DEI needs, make sure they are able to connect with applicable resources like:
Therapists & support groups
Reliable transportation services & food access
Community shelters & advocates
Financial counseling & assistance
Mentoring & tutoring programs
Childcare, home care & equipment needed

Health equity is a journey — keep taking steps forward
What your healthcare organization does is the most critical, life-changing work available in our society.
SONIFI Health is proud to partner with healthcare organizations in using technology to support health equity for all patients, including improving communication and fostering a sense of inclusion when patients want — and need — it most.
When your staff commits to prioritizing health equity along with the providing the best healthcare, you become a leader in showing what a difference equitable, inclusive care can make to individual patients, and to our wider communities.
. . .
Lisa Branson is a Nursing Executive at SONIFI Health, where she brings her expertise as a registered nurse (RN), certified patient experience professional (CPXP), and member of The Beryl Institute's Standing Committee on Equity and Inclusion.
Stay Connected
Get exclusive insights delivered to your inbox from our experts.