LOS ANGELES (May 7, 2019)—SONIFI Health released a study with the Duquesne University School of Nursing which found that when a patient engagement platform is paired with staff workflows, the completion of required education assignments can be expedited and materially reduce a patient's hospital length of stay.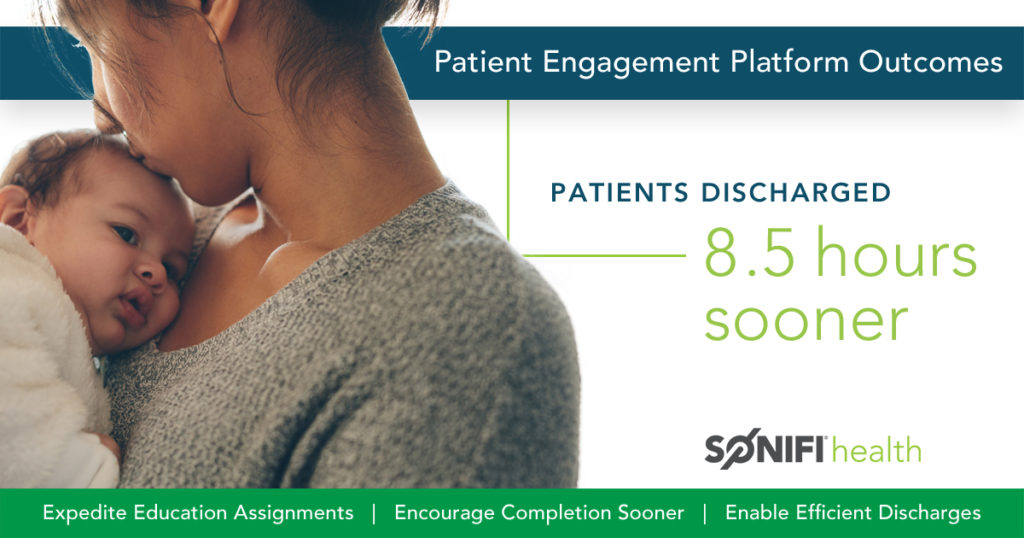 Patients in the postpartum units at the studied hospital must complete state-mandated education videos prior to discharge. The facility uses SONIFI Health's interactive patient engagement solution to make video education always available on each patient room TV. SONIFI's system delivers on-screen reminders of unwatched education videos, which were optimized against nurse rounding schedules. The combination of automated reminders and staff messaging yielded more than 8 hours difference in patient length of stay compared to a control group.
Length of Stay impacts facilitated by the SONIFI Health patient engagement platform:
Expedited Education Assignments: The use of SONIFI's interactive solution reduced the time between patient admit to when video education was assigned by 5.28 hours, allowing patients to begin viewing materials sooner.
Faster Completions: Making the education videos available on-demand with reminder alerts reduced the average time between assignment to viewing completion by 3 hours.
Efficient Discharges: By accessing and completing the education sooner during their stay, patients began the discharge process sooner. The time from education completion to when the patient was discharged was also reduced by 3 hours
"We know length of stay plays a significant role in both patient success as well as a facility's operational viability," says Austin Winberg, Director of Clinical Outcomes for SONIFI Health. "It's exciting to discover how technology solutions can be used to support a win-win for patients and health providers."
Winberg and study cohort Pam Spigelmyer, Assistant Professor of Nursing and Nurse Researcher at Duquesne University School of Nursing recently displayed their findings at the Eastern Nursing Research Society (ENRS) Annual Scientific Sessions.
Read more about the study here.
About SONIFI Health
SONIFI Health delivers interactive technology proven to improve patient experience, health outcomes and hospital productivity. The system is delivered across multiple technology platforms including mobile devices, computers and televisions at the bedside and in the home to improve patient and family experience while increasing hospital operational efficiencies. For more information, visit sonifihealth.com.
View press release on PR Newswire.