Five-Year Retrospective Study of HCAHPS Conducted by SONIFI Health
LOS ANGELES (Feb. 11, 2019)—SONIFI Health revealed new results from a study of HCAHPS scores showing positive, sustained benefits correlated with the company's patient engagement and education technology. While a previous study showed a significant impact one-year post implementation, the updated five-year findings show improvements continuing to improve in the key patient satisfaction domains measured.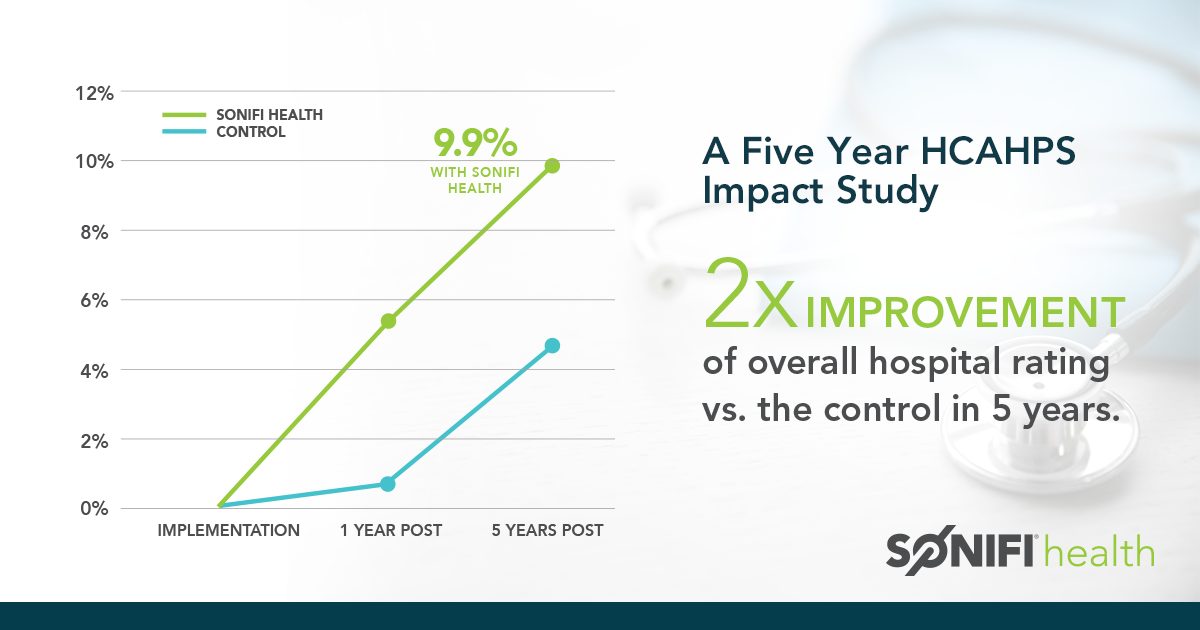 The study, which included 9 acute care facilities using SONIFI Health patient engagement solutions, observed HCAHPS scores over a five-year period in four areas: overall rating, nurse communication, medication education, and recommend the hospital. These results were compared to a control group comprised of similar hospitals without a SONIFI Health solution.
The 5-year study revealed that the gains seen 1-year post-implementation continued to climb consistently. Overall hospital ratings averaged a near 10% improvement after 5 years of using a SONIFI Health solution–more than twice the average improvement of a control group. The improved benefits over time may be attributed to increased adoption of the patient engagement technology as it becomes more embedded within the hospital's culture.
Results over 5 years:
Overall Rating scores increased by up to 26.7% and on average 9.9%
Nurse Communication scores increased by up to 12.2% and on average 4.5%
Medication Education scores increased by up to 16.9% and on average 8.3%
Recommend the Hospital scores increased by up to 15.9% and on average 4.47%
"The data shows how incorporating SONIFI Health provides meaningful benefits to patient satisfaction and areas of care that are known to impact clinical outcomes," said Ahmad Ouri, SONIFI Solution's CEO. "We design technology to enable more meaningful interactions between patients and providers, and it's rewarding to see our efforts translated into positive results."
Read the complete study findings here.
SONIFI Health will be available during HIMSS19 in Orlando at booth #6168 to discuss the study and give product demonstrations.
About SONIFI Health
SONIFI Health delivers interactive technology proven to improve patient experience, health outcomes and hospital productivity. The system is delivered across multiple technology platforms including mobile devices, computers and televisions at the bedside and in the home to improve patient and family experience while increasing hospital operational efficiencies. For more information, visit sonifihealth.com.
View press release on PR Newswire.